ASHGABAT -- Turkmen officials are reacting with concern to the presence of Afghan militants along the shared Afghan-Turkmen border, as well as to other threats they perceive along their borders.
Turkmenistan shares a 744km-long border with Afghanistan. Fighting in Afghanistan is so close that a stray bullet recently injured a Turkmen village girl.
Even Kazakhstan, another Turkmen neighbour, suffered fatal terrorist attacks this summer in Aktobe and Almaty.
"Concerns about the infiltration of radical and extremist ideas from neighbouring countries, primarily from Afghanistan ... hang heavy in the air during meetings of the Turkmen Security Council," a source close to the Turkmen leadership told Caravanserai.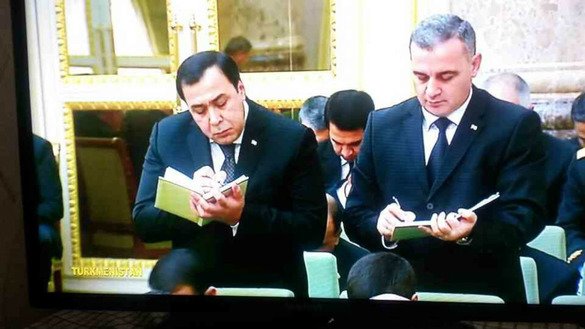 The council meets more often than it formerly did, the source said, adding that each time the chiefs of various security agencies report personally to President Gurbanguly Berdymukhamedov on their agencies' work. Those bodies include the State Border Service (GPS); the ministries of defence, the interior and national security; and the customs and migration services.
'Outside' threat
The Sydney-based Institute for Economics and Peace in mid-November ranked Turkmenistan in a 35-way tie for 130th (last) place on its annual Global Terrorism Index, meaning the country suffers no impact from terrorism.
Turkmenistan attained that status even though its neighbour Afghanistan was ranked the second most terrorism-affected country on Earth. Iraq finished in first place.
Turkmenistan is unlikely to see the emergence of terrorism with a domestic origin, given its stringent security, Ashgabat specialists on terrorism say.
"If trouble comes, it'll be from the outside," Shokhrat S., an official in the 6th Department of the Interior Ministry (MVD) who requested withholding of his last name, told Caravanserai.
Shokhrat S. supports various initiatives like keeping closer track of any inflow and outflow on its borders, particularly the one with Afghanistan.
Travel restrictions
Turkmenistan's concerns about its neighbours are beginning to affect travel into and out of Turkmenistan.
Many ethnic Turkmens live in Afghanistan, Shokhrat said. About 3% of the Afghan population are ethnic Turkmen, according to some sources, though exact numbers are hard to come by in Afghanistan.
Ethnic Turkmen who are Afghan citizenss have great difficulty in obtaining a entry visa, according to their relatives in Turkmenistan.
"We haven't been able to meet our relatives in Jawzjan Province, Afghanistan, for 15 years," Atakhan Muzzafarov, a resident of Kerki, Lebap Province, told Caravanserai.
Meanwhile, a Turkmen State Migration Service (GMS) officer speaking with Caravanserai could not exclude the possibility that Turkmenistan might suspend its agreement on visa-free travel with Kazakhstan, after that country suffered terrorist attacks in Aktobe and Almaty in June and July, respectively.