BISHKEK -- Banks in Kyrgyzstan are continually taking steps to block suspicious remittances from abroad and freeze accounts of clients suspected of having ties to extremist organisations, officials tell Caravanserai.
Finding the sources who finance terrorist attacks and other plots is essential to national security, Bishkek economist Sapar Niyazaliyev told Caravanserai.
"Many countries have laws to stop those who would destabilise society," he said, detailing how in Kyrgyzstan there is a law called the Law on Fighting the Legalisation of Criminal Incomes and the Financing of Terrorist or Extremist Activity."
The law enables the financial police to co-operate with financial institutions that issue loans, transfer money and store deposits, Niyazaliyev explained.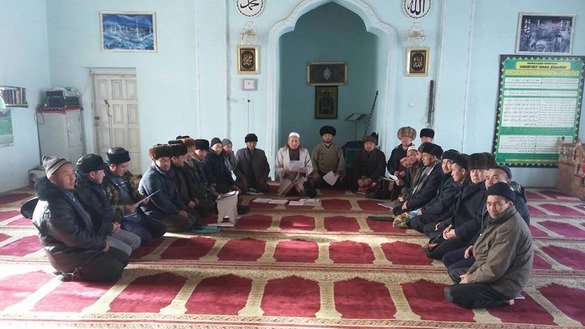 "Kyrgyzstan has frozen accounts of questionable origins in some cases," he said. "The money might have been used for destabilisation or for crimes, including incitement of religious hatred, given the latest events in Syria."
Specific case
One account belongs to a previously convicted extremist, Shakhobiddin Bazorboyev of Kara-Suu District, Osh Province.
"His home was searched in 2013, after which he was put on probation for a year," Tajibai Makhkamov, a resident of Kara-Suu, told Caravanserai. He "publicly claimed that he wasn't an extremist or terrorist, but nobody believed him."
In January of this year, Bazorboyev deposited suspicious funds in a local bank, Makhkamov said.
"I heard from neighbours that he was planning to become a migrant worker ... or simply join militants because he had a previous conviction for ties to extremist organisations," Makhkamov said.
Whatever his plans, Bazorboyev has no way of accessing that money.
The Kyrgyz Investment and Credit Bank (KICB) has frozen it, Tursunbek Shakirov, the director of KICB's southern division, told Radio Free Europe/Radio Liberty's Kyrgyz service in May.
"The $17,500 [1.2 million KGS] in his account ... is frozen," Shakirov said at the time. "He turned up on a 'blacklist' issued by the financial police. They ordered us to keep [him] from withdrawing his money."
Even today, the money is still frozen because Bazorboyev lacks satisfactory documentation of its origins.
Banking sector co-operation
Co-operation between government agencies and financial institutions is helping uncover money that might be headed to dubious places otherwise, State National Security Committee (GKNB) spokesman Ulanbek Jalildinov told Caravanserai.
"We have identified citizens who intended to go to Syria and join ISIL [the 'Islamic State of Iraq and the Levant'] after receiving money transfers from unknown foreign senders," he said. "The vigilance of financial institution personnel helps our work against terrorism."
A recent string of defeats in Syria is catapulting the insurgents into disarray, Jalildinov said, adding that Kyrgyz insurgents in Syria are sending home their money in small amounts to avoid setting off red flags.
"We fear that illegal financial transfers or money already held in our banks could be sent to third parties who have ties to terrorist groups," Jalildinov said. "That's why our banking sector stays under the strict oversight of the relevant agencies."
In one recent case, the Kyrgyz Foreign Ministry is reviewing information on a Kyrgyz citizen whom Turkish authorities detained in Istanbul on suspicion of smuggling undeclared funds, RFE/RL's Kyrgyz service reported November 21.
"Seven individuals including a Kyrgyz citizen were arrested at Atatürk International Airport on November 18, according to the Kyrgyz consulate in Istanbul," RFE/RL reported. "They were transporting $9.5 million [656.6 million KGS] in undeclared money."