ALMATY -- In Kazakhstan, incidents of radicals disrespecting and even attacking imams and mainstream Muslims are arousing public alarm, the Spiritual Administration for the Muslims of Kazakhstan (DUMK) warns.
Zona.kz has reported about several such incidents, including how in August 2015, a group of four or five radicals confronted an imam in Kentau after Friday prayers and provoked an argument. The same outlet reported how, without giving dates, another group of individuals in separate incident quarreled with imam in Kentau and even beat up another in Aktobe.
To address these issues and to discuss other religious problems, the DUMK leadership, clergy, representatives of religious universities, Islamic scholars and theologians met in Almaty on November 15-17 and passed the DUMK Mosque Regulations, which govern behaviour inside mosques.
"Recently, we have seen cases of [extremists] ... beating and insulting imams in mosques," Gulnaz Razdykova, director of the Pavlodar-based think tank Centre for the Analysis and Development of Inter-Faith Relations, told Caravanserai. "DUMK therefore passed a code of conduct that mosque-goers must follow."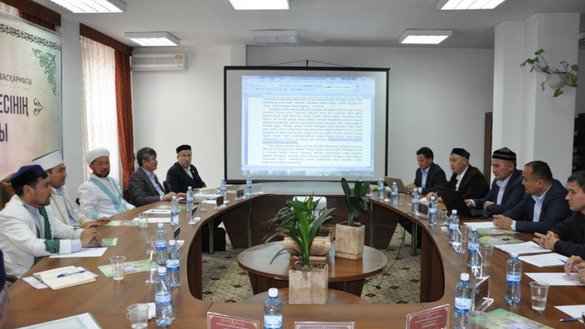 "The [national] Ulema Council is examining religious issues at the right time," Supreme Mufti Yerjan haji Malgajyuly said during the session, according to DUMK. "It's issuing fatwas and, as such, performing an important function. The Ulema Council plays an important role in developing ... spirituality."
The Ulema Council is DUMK's advisory body.
At the meeting, the mufti heard all attendees' views on issuing fatwas on major issues.
So far, as a result of the conference, the Ulema Council has issued 36 fatwas and signed 12 planning documents, according to the DUMK press office.
New regulations
Authorities and clerics are working to prevent violence inside mosques.
Mosque employees and clerics now know to call police at the slightest sign of aggression from someone inside a mosque, an imam who requested anonymity told Caravanserai.
The newly issued regulations "delineate what constitutes a prohibited act inside a mosque", according to DUMK's press office.
Aggressive behaviour by radicalised mosque-goers is becoming more pronounced, Aslan Buruyev, a resident of Zhambyl Province, said.
"I'm thankful that the government, police and imams are taking action," he told Caravanserai. "These radicals often seem to be peaceful people, but when discussions start, they begin insulting us and accusing us of being infidels. They badger people outside mosques and argue with imams."
"Terrorists ... are emerging from their ranks," he predicted.
Preventing extremism
The DUMK is continuing its work to prevent extremism and terrorism. Imams converse with Muslims on a daily basis in mosques and regularly participate in meetings with the public.
On November 18 in Ust-Kamenogorsk, Yermek haji Mukhatai, an imam of a local mosque who is part of DUMK, spoke to students from East Kazakhstan State University about the importance of religious knowledge and the inadmissibility of extremism. He answered the students' many questions on religious matters.
"It's essential to increase young people's overall level of education and religious literacy," Mukhatai told Caravanserai. "That will keep them from falling into the traps of extremist ideology. Kazakhstan is taking measures to keep destructive religious movements ... from spreading."
Radicalism is foreign to true Muslims, Taraz resident and mosque-goer Murat Akhmadiyev told Caravanserai.
"Our imam preaches about how it is criminal and sinful to hate others for their religious beliefs," he said. "Mosques run dedicated schools for those who want to improve their knowledge. All my friends and I condemn terrorists."
Improving qualifications
DUMK runs seminars regularly to teach imams how to converse about religion and to increase their religious knowledge.
Such a seminar, organised by the Almaty Province Administration for Religious Affairs, took place in Taldykorgan city on November 22.
Instructors from DUMK and from Almaty-based Nur Mubarak University lectured at the seminar, DUMK said in a statement.
Topics included "the morality and image of today's clerics and the fight against various destructive movements", the statement added.
"Imams should be authority figures for the public," Akhmadiyev the Taraz resident said, adding, "They [the imams] should be honourable and devout."
"We don't have enough imams in the [remote] districts or in village mosques," he said. "But the imams they do there are always learning and increasing their knowledge ... They're engaging the public more."