KHUJAND, Tajikistan -- Tajik journalists in Sughd Province recently learned how to cover the difficult subject of extremism and terrorism.
The training constituted one of three journalist workshops recently held by the London-based Institute for War and Peace Reporting (IWPR). The other two seminars on "Improving the capacity of society to fight radicalism" will take place in Khatlon Province.
The training effort comes as journalism insiders and theologians urge reporters who cover terrorism to upgrade their knowledge of Islam and to learn new media skills.
"To write good material, a journalist needs -- at the very least -- internet access as well as the necessary equipment and knowledge of how to use its capabilities," Lola Olimova, the IWPR project co-ordinator, told Caravanserai.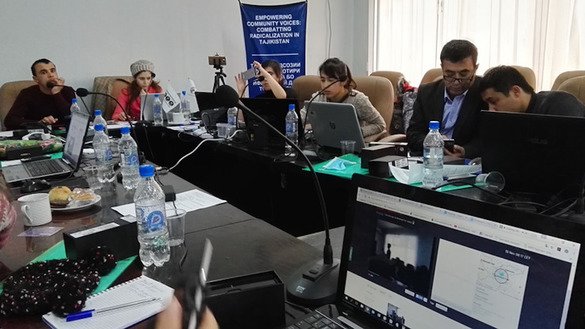 Mastering 'convergence journalism'
The first of the three planned workshops took place in Khujand on November 16-19. Ten Sughd Province reporters representing broadcasters, newspapers and internet publications attended.
The IWPR selected the participants based on their experience in covering radicalism for their respective employers, Olimova said.
Versatility is essential now, especially for the genre called "convergence journalism", which combines print, photography and video, according to IWPR multi-media trainer and AsiaPlus reporter Akhliddin Salimov.
"Today it's hard to imagine journalism that doesn't use multi-media tools," he said. "Today's journalists write, shoot footage and post their pieces online."
"Besides providing training in convergence journalism, we explained that you can write and post stories far from the newsroom by using internet resources," Salimov said.
Religious education matters
After the journalists heard a lecture about Islam, they had to produce five stories on extremism and terrorism for eventual publication on the websites of their employers, according to the IWPR.
"Our security faces threats from different directions," Dushanbe-based Islamic scholar Saidakhmad Kalandarov said in his lecture to the attendees. "The forces that exploit young people's religious illiteracy present a particular danger."
Supporters of extremist movements often cite Sharia law while violating it themselves, he said.
"Islam has never encouraged cruelty or violence," Kalandarov said. "On the contrary, all of the Koran's verses glorify kindness and peace."
A high level of religious education "is essential for journalists who write about religion, extremism and terrorism", he added.
Being well educated in both religious and secular matters makes one more effective in fighting extremist ideology, he said.
Using the term 'jihad'
One pitfall to avoid is equating the term jihad with war, Kalandarov said.
"The exact translation of 'jihad' is desire, effort, work," Kalandarov said in his remarks. "It's easy to deceive people who lack a religious education. Leaders of ... extremist organisations often exploit this factor."
The majority of Tajik youth fighting for the "Islamic State of Iraq and the Levant" (ISIL) in Syria were duped, he said, adding that some militants fight for financial reasons.
ISIL's idea of jihad has "nothing to do with what is written in the Koran", Kalandarov said. "The Koran condemns war in a foreign land and the killing of innocent people. They cannot be considered 'jihad'."
New skills
The IWPR organised the workshop.
After its completion, all 10 reporters received cell phones and pre-paid SIM cards with free internet access for one year.
"We extended our support to the journalists, taking into account that not all the mass media in Tajikistan have the means to create a comfortable ... multi-media working environment," Olimova said.