DUSHANBE -- Tajikistan has begun actively tracking down the hundreds of radicalised Tajiks who left to fight with "Islamic State of Iraq and the Levant" (ISIL) in the Middle East.
With ISIL losing rapidly losing territory in Iraq and Syria, Tajik authorities worry these militants may be returning home.
On December 13, the Interior Ministry (MVD) posted photos of 70 Tajiks on its website, all of whom are accused of joining ISIL in the past three years and of fighting in Syria and Iraq.
The MVD posted the photos to make the public aware of the individuals on the wanted list and to help authorities find the suspects, MVD spokesman Umarjon Emomali told Caravanserai.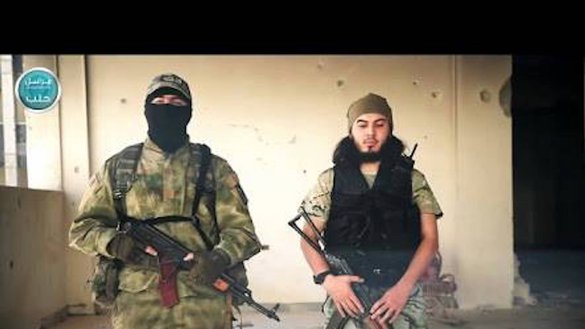 "All of the pictures we published show them ... before and after they joined ISIL," he said. "Seven are women who went with their husbands to Syria."
"Our primary goal is to urge the public to ... help us prevent crimes against humanity," he said. "Also, if they recognise any of them [in Tajikistan] ... to immediately report them."
Local media and authorities already are circulating the suspects' photos in some towns and districts and are also putting up their photos on the street, he said.
"We turned over all information about [them] to Interpol," Emomali said. "Even if they get new passports, they'll be detained at any border crossing because of their fingerprints."
Educating the public
Meanwhile, Tajik police are working on prevention, not just pursuit and detention.
Recently, police teamed up with the Tajik youth organisation Avangard to conduct an anti-extremism campaign in Dushanbe.
Since early December, Avangard members and the MVD have been jointly meeting with vendors at markets to raise awareness about the problems created by extremism and terrorism. Earlier, they met with high school and college students.
Avangard and the police are pursuing this strategy because of vendors' and customers' vulnerability to recruitment at markets, which are high-traffic venues, Avangard chairman Asliddin Khushvakhtov told Caravanserai.
So far, the joint campaign has reached four of Dushanbe's markets. Caravanserai's correspondent attended the anti-extremism outreach meeting at the Farovon market, held on December 10.
"Market vendors spend a great amount of time conversing and are very outgoing," Khushvakhtov told Caravanserai. "We know for certain that terrorist groups have already come to markets and tried to recruit others by constantly making conversation."
"In some cases, they succeeded in recruiting at the markets," he said, without specifying whether vendors or customers joined the extremists.
Another benefit of communicating the threat to vendors is that "they'll share our conversations with their households", Khushvakhtov said.
Month-long campaign
Avangard, the MVD and city hall co-ordinate the outreach meetings, which are expected to continue through December. In each case, the market manager assembles all vendors in the market auditorium, where Avangard members and police address them.
Such meetings help prevent the public from mistakenly heading down the path of extremism, Dushanbe police spokesman Bakhtiyor Ismoilov told Caravanserai.
Tolerant Muslims, such as the Tajiks, should "remain true to our roots and not succumb to propaganda or emulate an alien culture", Ismoilov said.
"The goal of terrorist groups is to destroy Islamic civilisation," Khushvakhtov said. "Such groups are especially sowing discord between Sunnis and Shia ... We're seeing this right now in the Middle East."
Other extremist groups like the Islamic Movement of Uzbekistan (IMU) and Hizb ut-Tahrir seek to foment instability and to seize power, said Mardikhudo Davlatov, deputy chairman of Avangard.
"It's absurd that 1,000 Tajiks [raised in the moderate Islamic tradition] are fighting for the so-called Islamic State," Davlatov said in his speech to vendors.
Davlatov urged the vendors to share what they had heard during the session with their friends and families.
"Most of you are the oldest in your families," he said. "Don't neglect ... your brothers and children, and tell them our words."
"Any organisation can destroy a nation by destroying its youth," Davlatov said.
Farovon market vendor Farrukhsho Nazarshoyev said he was impressed by what he heard.
"The meeting was very useful," he told Caravanserai. "I've run into recruitment attempts by ISIL. [ISIL] wrote me on social media, on Odnoklassniki ... I've heard this is how many guys fall for propaganda and go to Syria to join ISIL."
No way to return home
Tajik authorities, as they fight to roll back any spread of extremist sentiment, are acutely aware of the warfare in nearby northern Afghanistan.
Tajik media and border-zone residents have reported the build-up of units of Jamaat Ansarullah, the Taliban, IMU and ISIL on nearby Afghan territory.
"We don't know exactly what goals militants are pursuing," Sulton Sobirov, a Dushanbe-based security analyst, told Caravanserai. "After massive attacks by the international coalition, the terrorists have fled Syria and Iraq and moved to Afghanistan. All of that ... presents a potential danger."
Central Asian militants who want to return to their homelands for "jihad" are massing in border provinces like Badakhshan, Afghanistan, he said.
"We need to be alert," Sobirov said. "We need to keep them from realising their vicious intentions."
Pairav Khamidov of Dushanbe, a retired MVD general, expressed his doubts about another group: ostensibly remorseful militants who come back from Syria and Iraq and surrender to Tajik authorities.
"The Tajik Criminal Code has been amended to offer amnesty to people who voluntarily return to Tajikistan from war zones," he said. "The fact is that they're coming home to carry out their mission. Those who genuinely regret their actions, as a rule, have no way to return home."