TASHKENT -- Early next year Uzbekistan law enforcement agencies are preparing to employ cutting-edge technology that will enable officers to halt or shut down hijacked vehicles remotely.
The system will augment the video surveillance system already in place at Tashkent's intersections. The vehicle-disabling system is undergoing testing.
Uzbekistan stepped up such security plans after the deadly December 19 terrorist attack in Berlin, in which a lone culprit drove a hijacked truck through the crowd at a Christmas market.
The "Islamic State of Iraq and the Levant" (ISIL) claimed responsibility.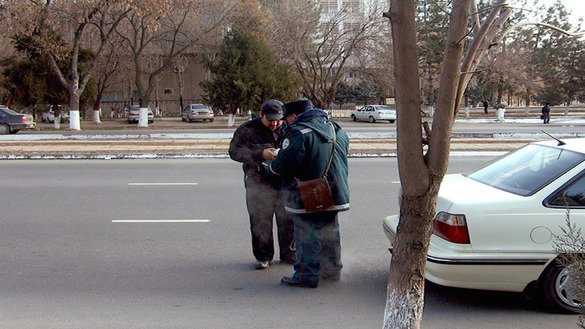 Mourning Berlin's dead
Uzbekistani President Shavkat Mirziyoyev and other citizens are expressing their sympathies for those who were killed or injured in the Berlin attack.
Mirziyoyev on December 20 sent condolences on behalf of the Uzbekistani people to German Chancellor Angela Merkel, according to the Foreign Ministry.
In his message, Mirziyoyev expressed his sincere condolences and passed on his fellow citizens' words of sympathy to the loved ones and families of the victims, the ministry said.
"It's horrible...I can't imagine something like that in Uzbekistan," Tashkent resident Uktam Sattorov told Caravanserai. "ISIL should be destroyed as soon as possible."
"I don't get how something like that could have happened after a similar incident took place in Nice [in July]," Tashkent resident Dmitrii Tronin told Caravanserai.
Measures to thwart attacks
A similar attack would be very hard to pull off in Uzbekistan, given its stringent security measures, Uzbekistani observers say.
"Many years ago, Uzbekistan restricted the movement of trucks in populated areas," Matlabkhoja Zoirov, an employee at a Tashkent cargo transport firm, told Caravanserai. "'No trucks' signs hang in downtown Tashkent. Truck drivers are required to have special waybills that traffic police check. They enforce those requirements strictly at the entrances to Tashkent"
The police regularly "inspect cargo and truck drivers' documents", he added.
Authorities do everything they can to deter vehicle hijacking as well.
"Carjackers in Uzbekistan risk three to five years in prison," Tashkent lawyer Muslima Khakimova told Caravanserai, adding that "Carjacking is very rare in this country".
Even so, Uzbekistan regularly ratchets up its efforts against such crimes.
The General Prosecutor's Office on October 7 sent proposed stiffer penalties for vehicle hijackings to parliament for review. If enacted, they would mean 10 years of maximum prison time for lone hijackers and 20 years for members of hijacking rings.
Remote vehicle-disabling system
Another measure to stop terrorists from using stolen vehicles is the introduction of a state-run remote anti-theft system. An Interior Ministry unit called "Protection" will run the programme, working to protect state and private facilities in the country.
"Taking private vehicles and installing [software] for shutting them down remotely are in our plans," Protection Director Col. Tokhiriddin Najimov said, announcing the plans at a news conference in April.
The remote vehicle-disabling system underwent tests and works well, Najimov told journalists on December 19. It enables police to halt a car by issuing a command via a computer device.
Authorities intend to roll out the system in early 2017, Najimov said.
The system could augment existing video surveillance, which workers began installing at Tashkent intersections in 2014.
"At present, 120 intersections are outfitted with video cameras that are fully ready to function and are recording traffic violations as part of a trial run," Tashkent traffic police officer Sherzod Melikulov told Caravanserai.
Once both systems are functioning, authorities envision putting vehicle hijackers, including would-be terrorists, out of business.
Traffic intersection cameras -- so far, operating only in Tashkent -- would alert police to the whereabouts of a stolen car or truck, and then they could send out a remote command to shut down the vehicle.