NARYN, Kyrgyzstan -- Kyrgyz security authorities are reporting cases of highly educated citizens joining extremist groups and attempting to recruit other Kyrgyz.
The phenomenon belies the usual stereotypes and assumptions that militants rely on the disaffected and marginalised elements of society.
A recent case working its way through the Kyrgyz court system is that of Kubanychbek Jakypov, a kung fu teacher in a Naryn school, whom police accuse of trying to proselytise his pupils on behalf of an extremist group.
Police searching the residences of Jakypov and other suspected extremists in Naryn found materials with extremist content, the Interior Ministry (MVD) press office said in a statement December 27.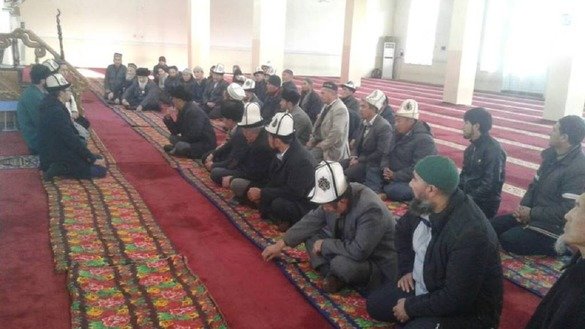 "While searching ... Jakypov's residence, we found a laptop, but [he] tellingly smashed it," the MVD said. "But [we] were able to restore the processor, where we found extremist content."
Jakypov, who graduated with an economics degree from Kyrgyz National University, later confessed to belonging to Hizb ut-Tahrir, an international militant group banned in many countries, and he faces prosecution, officials said.
Treating patients or recruiting them?
A month earlier, during a November 28 raid in Osh city, law enforcement arrested a Bishkek doctor accused of pushing extremist materials on his patients.
The doctor, identified by his initials, A. S., arrived in Osh in September. He provided hirudotherapy, treatment with medicinal leeches, in a medical centre there, Osh city police spokesman Zamir Sydykov told Caravanserai.
Police arrested A. S., 32, at his workplace and found materials published by Hizb ut-Tahrir, which is prohibited in Kyrgyzstan, Sydykov said.
They also found various DVDs and flash drives "containing materials calling for the overthrow of the Kyrgyz government", he said.
One of A. S.'s patients was Jurabai Khalmatov, 37, of Kara Suu town, Osh Province, who used to receive hirudotherapy almost daily.
A. S. went from a courteous practitioner to an aggressive proselytiser once he learned that Khalmatov came from Kara-Suu, known for producing a large number of extremists, the patient recalled.
"I didn't want to be recruited," Khalmatov said, adding that A. S. urged him to read some banned magazines and books. "I knew no good would come of that."
Targeting the educated
Authorities are noticing a new trend of college-educated Kyrgyz joining extremist networks, according to Ulanbek Jalildinov, a State National Security Committee (GKNB) spokesman.
"We do the bulk of our preventive work in schools and place strong emphasis on [protecting] youth, seeing that they are the main target for recruiters," he told Caravanserai. "But we have started to find cases of workers in medical facilities sympathising with radical ideas. The insurgents in Syria include Kyrgyz college graduates."
The leaders of underground cells are "trying to win over not only doctors and nurses but also educators, cultural figures and so on", Jalildinov said.
"For extremists, one highly educated person who becomes involved in their network is equivalent to 10 young, uneducated people," Bishkek religious scholar Kadicha Arstanova told Caravanserai, citing an educated recruit's greater ability to impress and persuade audiences.
Intensifying preventive measures
Authorities are stepping up preventive measures in Kyrgyz government agencies and private firms, to root out possible members of extremist cells among their respective workforces, Sydykov, the Osh city police spokesman, said.
Kyrgyz clerics agree with that initiative.
"We suggest that in 2017 the MVD 10th Main Department strengthen its work in fighting extremist ideas in national and municipal government agencies," Samidin kary Atabayev, the qazi (Islamic judge) of Osh Province, said during a meeting of imams in Kara-Suu city on December 9.
The imams gathered to discuss the results of their preventive work in 2016.
Next year, imams will keep working not only in mosques but outside them, to reach out to all parts of the population, including the educated segment, Atabayev said.
"It is very important for us that the fight against extremism and terrorism be carried out not only in the form of sermons, but also through lectures, seminars, rallies, educational games, etc.," he said at the imams' conference. "This is the only way to eradicate this evil."