DUSHANBE -- Tajik authorities are methodically carrying out a long-term strategy to eradicate extremism and terrorism.
The effort comes as the country deals with the threat posed by hundreds of citizens fighting in Syria, who might want to bring their lethal skills home.
Tajikistan in January launched the second phase of the country's National Strategy on Countering Terrorism and Extremism for 2016-2020, Mukhammadrizo Khalifazoda, head of the department for protection of rights at the Prosecutor General's Office, told Caravanserai.
"The strategy is based on a thorough analysis of the factors and trends that concern extremism and the radicalisation of society, which lead to terrorism within the country's borders," he said.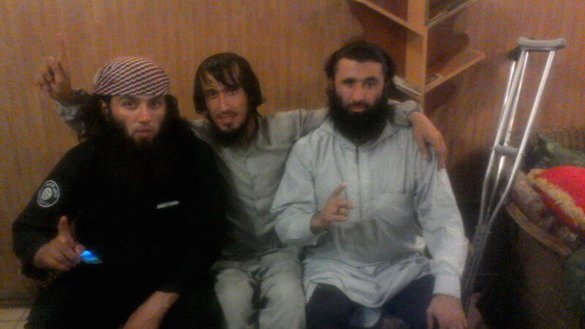 Preventing youth radicalisation
This year, the government plans to develop a full list of extremist and terrorist organisations, their ideological platforms, and a description of the methods by which they recruit, as well as examples of terrorist attacks they have organised, Khalifazoda said.
Authorities also plan to distribute brochures and set up a website in Tajik and Russian, dedicated to preventing and combating radicalisation, he said.
"Besides this, we plan to develop a free informational guide called 'Islam against Terror' that throws light on the humanitarian ideals in the Koran and the Sunnah, telling readers about the fatwas of authoritative religious institutions, as well as explaining the incompatibility of terrorism with true Islam," Khalifazoda said. "We will hold many events and be sure to inform the public about them."
"One of the main points ... is to prevent extremism and to promote tolerance in the religious environment," he said. "We propose events geared to preventing extremism ... among minors and young adults."
President Emomali Rahmon approved the strategy last November.
A number of government agencies, including the Prosecutor General's Office, presented the strategy in Dushanbe December 6.
The potential base for recruitment is comprised mainly of youths aged 18 to 27 who lack life experience, Khalifazoda said.
"There are not only social issues but ideological ones too," Sherali Rizoyen, a department chief at the Strategic Research Centre under the President of Tajikistan, told Caravanserai. "Evaluating ... the terrorism problem should be done comprehensively. The tactics we use should be comprehensive too."
Dangers of the internet
Tajikistan has about three million internet users, more than 80% of whom one way or the other end up viewing extremist content, Khalifazoda said.
To counter this, he said, "Authorities ... are carrying out clearly defined work to identify and block sites that spread extremist materials."
It is essential to create anti-extremism websites, said Mukhammadi Ibodulloyev, chief of the Tajik chapter of the international NGO Civil Initiative on Internet Policy.
"It is crucial to express opposing views as much as possible [and] to hold constructive discussions," he told Caravanserai.
"The internet is no different from throwing children onto the street and not looking after them," he said.
Authorities are also seeking to prevent extremism and radicalisation among law enforcement and military personnel.
"Law enforcement officials and military personnel are subject to the risk of of infection by extremist propaganda," Khalifazoda said. "Their duty requires them to deal with individuals who have extremist inclinations."
Analysts optimistic about strategy
Principles and methods for the fight against radicalisation, outlined in the strategy, seem fairly democratic and realistic, said Jakhongir Boboyev, a Dushanbe specialist on religious issues.
"Now the most important thing is to implement this strategy," he told Caravanserai. "It's unlikely that without practical work this strategy will be able to eradicate the pre-conditions for these phenomena."
"It is essential not only to use force, but also to fight against this phenomenon ideologically," he said.
The strategy is timely and important, said Shokhidon Afzalov, another Dushanbe religious specialist.
"I approve the strategy's considerable attention to the need ... to promote tolerance," he told Caravanserai.
The strategy calls for joint work by all branches of government, NGOs, the expert community, teachers and all other segments of society, as well as for stronger regional and global co-operation against terrorism, said Shokhirjon Khakimov, deputy chairman of the Social Democratic Party.
"I support the approach to the problem, since eradicating this phenomenon is possible ... only through common effort," he told Caravanserai. "The government alone cannot combat this scourge."