"Islamic State of Iraq and the Levant" (ISIL) leader Abu Bakr al-Baghdadi is losing control of his group, which is roiling with internal divisions and has lost key leaders in targeted airstrikes, Iraqi military and government officials say.
The group has suffered a series of heavy losses in Iraq, and many field operatives and members of al-Baghdadi's inner circle have been killed.
As ISIL is weakened and forced out of its former strongholds, a state of desperation and frustration has set in among the group's fighters, which has weakened both the group and its leadership, they said.
At the same time, the bounty on al-Baghdadi's head has increased, and local residents, empowered by Iraqi victories, have been turning on the group, informing the liberating forces of their whereabouts and leading them to their hideouts.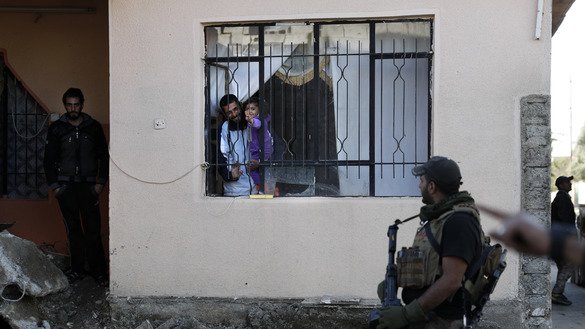 ISIL is currently facing myriad problems that threaten its structure and its very existence, security expert Saeed Nimah al-Jayashi told Diyaruna.
Severe internal divisions have plagued ISIL, with local and foreign fighters engaging in sometimes bloody disputes, he said, which has eroded the group and its command structure.
"This has been confirmed during our monitoring of ISIL's condition, our readings and analysis of recordings of its leader and publications of its members that reflect their weakness and inability to remedy this crisis," al-Jayashi said.
The increasing co-operation between civilians and the armed forces has been instrumental in putting ISIL on the defensive, he said, noting that "without this kind of collaboration, we would not be seeing all these wins against the enemy".
Rewards for information
To encourage people to report ISIL cells and activity, the Iraqi government has set up several hotlines (195, 130 and 181), al-Jayashi said, adding that there has been a "strong flow" of intelligence from civilians to the security forces.
"We are engaged in an open war with ISIL, and all citizens and the state are on high alert, standing as one to destroy members of the group and decapitate the snake, al-Baghdadi," he said.
Members of the international coalition are working towards a common goal, with the US State Department on December 16th announcing it has raised the bounty on al-Baghdadi from $10 to 25 million.
Placing a huge bounty on al-Baghdadi's head widens the crack in the already shaky edifice of trust between al-Baghdadi and members of his group, Iraqi MP Ammar Tumah told Diyaruna.
The bounty will be "a new factor that will deepen internal conflict for the group and whet the appetite of members of the group" who may consider turning on al-Baghdadi, he said, particularly his inner circle.
All members of the group's senior leadership are known for their greed and lust for money and the spoils of war, Tumah said.
ISIL is 'imploding'
The elimination of symbols ISIL has used in its propaganda, such as its defeat in Dabiq, also has taken a toll on the group's image, and consequently the loyalty of its fighters, Tumah said.
"Al-Baghdadi and his group are completely imploding," he said, adding that public support for the military operations and the professionalism and humanity displayed by the liberating forces has "quickened the fall of the group".
Iraqi Ministry of Defence spokesman Brig. Gen. Yahya Rasul told Diyaruna that al-Baghdadi's inner circle is getting smaller by the day, as his most senior commanders have either been killed or detained.
On January 12th, he said, the Iraqi air force killed a senior ISIL commander, along with several of his operatives, in an airstrike that targeted an ISIL hideout in al-Amel neighbourhood in central Mosul.
Intelligence sources say he was a "high priority target", Rasul said.
"The leadership of the criminal al-Baghdadi of his group is getting weaker as a result of significant loss of life at the hands of our forces and the destruction of several of their weapons and ammunition warehouses," he said.
Iraqi forces have been destroying ISIL bases and targeting hisbah ("religious police") gatherings, he said, while the group also is losing money and fighters.
"I can confirm that ISIL is wasting away and its death is imminent," he said. "As for the terrorist, al-Baghdadi, our intelligence services are monitoring his location and movements."
Al-Baghdadi names successor
Media reports reveal that al-Baghdadi has appointed one of his commanders, identity yet unknown, as his successor as "caliph", to take command of the group in the event that he is detained or killed.
"This information, even if true, means nothing to us," Rasul said. "At the end of the day, what awaits al-Baghdadi and anyone who succeeds and supports him is death."
ISIL is a complex group, and its internal relations are characterised by opaqueness and secrecy, Ninawa provincial council security committee member Hassan Shabeeb al-Sabaawi told Diyaruna.
"For this reason, it becomes difficult to confirm al-Baghdadi's choice of successor, but what is remarkable about this step, if true, is that it reflects how weak and desperate the group has become," he said.
Al-Sabaawi said he is convinced that al-Baghdadi will meet the same fate as his predecessor, Abu Musab al-Zarqawi, the leader of al-Qaeda in Iraq, who was killed in a 2006 airstrike.
"His imaginary state has started to crumble with the imminent liberation of Mosul," he said.
The group's killings, terrorisation and starvation of the civilian population is what has motivated people to report ISIL cells and elements to the security forces, he said.
"People want revenge from these murderers and they want to live in peace," he said.