AKTOBE -- Seven months after a terrorist attack in Aktobe left 21 people dead, residents are turning to the theatre to commemorate the victims.
Terrorists, seeking weapons, stormed two local gun shops and a National Guard base on June 5 before authorities ended the violence. In the end, three troops, five civilians and 13 terrorists were killed.
"Locals are mourning all Aktobe residents who perished during the terror attack," Olga Pavlova, director of a Russian-language theatre troupe at Takhaui Akhtanova Drama Theatre, told Caravanserai.
'Forget Herostratus'
To commemorate the victims and honour their memory, Pavlova staged the play "Forget Herostratus" on January 21.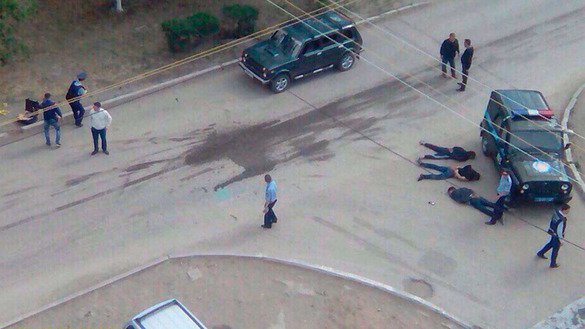 "We put on 'Forget Herostratus' in memory of the victims of the June 5 Aktobe terror attack," she said.
The title refers to the 4th-century BCE Ephesian arsonist Herostratus, who burned down the Temple of Artemis, one of the seven wonders of the world, to achieve notoriety.
"Forget Herostratus" is based on a the late Grigorii Gorin's play of the same name, written in 1972.
"The play shows that Herostratuses, for whom nothing is sacred, come from somewhere," Pavlova said. "By pursuing their goals, they cloud people's minds."
The troupe is planning to perform the play once a month and to take it to other venues in Kazakhstan.
Play explains dangers of terrorism
During the play, an actor warns viewers that terrorism is an evil that needs to be eradicated; otherwise it will become an avalanche of war and death.
"This play explains where this illness comes from," Pavlova said.
"These brainwashed people seized gun stores and fought to the death," she said, referring to the perpetrators of the June 5 attack, who mostly all came from Aktobe city or Aktobe Province.
The most terrifying and incomprehensible aspect of the attack was that fellow Kazakhstanis were the perpetrators, said Dmitrii Belich, the actor playing Herostratus.
"This sort of thing happens because people always need something to believe in," he told Caravanserai. "Outsiders show up at the right moment to recruit ... I think that's exactly what happened to our terrorists."
"Terrorists are the Herostratuses who seek only to destroy for their own gain," said Valikhan Kinjibayev, who played the ruler of Ephesus.
"If one person does something good after watching this play, then we will not have worked in vain," he told Caravanserai.
"I watched the play and recalled the names of madmen who had a Herostratus complex," Gulnar Bayasheva of Aktobe told Caravanserai. "All wars, terror attacks ... and murders start in one way or another from vainglory and madness."
Aktobe trials continue
On January 18, two men who unwittingly became part of the real-life Aktobe drama paid the price for failing to live up to their military oaths.
An Aktobe court sentenced ex-military officers Kainarbek Tastanbekov and Kayrgali Orazjanov to prison for cowardice when the Aktobe terrorists attacked their base. Both men fled rather than confront the terrorists.