BISHKEK -- Kyrgyz authorities have uncovered an international terrorism financing scheme with the recent arrests of two Osh Province residents.
Authorities on February 2 arrested a 33-year-old Osh Province native, Z.K., who is suspected of financing international terrorism organisations.
He was arrested during a special operation carried out by law enforcement agencies in Bishkek.
Z.K. had studied in religious schools in Egypt and Syria, where in 2012 he met and became friends with the leaders of various terrorist groups, according to Rakhat Sulaimanov, a spokesman for Kyrgyzstan's State National Security Committee (GKNB).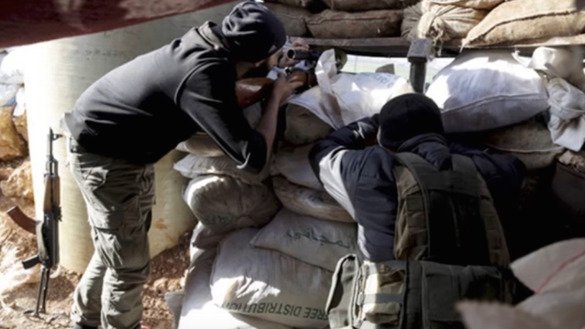 The suspect returned to Kyrgyzstan in January 2015 and was engaged in criminal activity by providing insurgents with funds, Sulaimanov told Caravanserai.
"Over the past two years, under the cover of regular business activity, he was collecting hard currency from jihadist sympathisers and transferring it abroad, and by so doing financing terrorist groups," he said.
In addition, Z.K. and his friends started a business in the Middle East "so that they could send the proceeds to finance the 'Islamic State of Iraq and the Levant' (ISIL)", Sulaimanov said, adding that authorities are searching for other potential accomplices.
Suspicious connections
Yangiboy Moydinov, the chairman of a neighbourhood committee in the city of Kara-Suu in Osh Province, said recruiters provide their targets with money so they can travel freely to Turkey and from there on to Syria.
Recruitment of young people continues, he warned citing on the recent arrest in Kara-Suu.
Thanks to local residents, law enforcers January 19 arrested 34-year-old compatriot, A.Sh., Moydinov told Caravanserai. A large amount of materials with appeals to overthrow the Kyrgyz Republic's constitutional order was found and confiscated at his home, he said.
"There were rumors going around in our small trading town that A.Sh. has a connection to radical groups and recruits youth, promising them paradise after death if they join ISIL," Moydinov said.
Authorities suspect Z.K. was A.Sh.'s handler. Intelligence agencies are continuing their investigation into the two, as they suspect their network includes several more people who could be disguising themselves as entrepreneurs or businessmen.
"Those suspected in extremism and terrorist activities are connected in one way or another, but they have a strict hierarchy, and that is why they cannot know the real names of their senior mentors," Attokur Omurzakov at Kyrgyzstan's Interior Ministry told Caravanserai.
He said during the preliminary investigation Z.K. confessed that he did not work alone, but regularly sent money transfers to the same recipient in Turkey.
According to Omurzakov, documents seized from the suspect are under investigation, although during the search he managed to destroy many of them on his own. However, statements remain in the banking institutions, so there is a chance that the trail of the unknown recipient abroad can be picked up, he said.
Ruining lives, families
"Everyone is tired of the war in Syria, and how many young lives has it taken?" Mavlyuda Jabbarova, a 52-year-old resident of the city of Kara-Suu who lost her nephew on a battlefield in Syria, told Caravanserai.
She said her older brother died from heart attack last summer when he learned that his 21-year-old son, Shermakhammat (Mavlyuda's nephew), died in July last year during a battle near Aleppo.
She said her nephew promised his relatives that he would earn money and return home to marry and raise children.
According to Omurzakov, Shermakhammat F. was recruited to Syria in the fall of 2015, when he told his parents that he was leaving to earn some money in a city within the Commonwealth of Independent States.