SPITAMEN DISTRICT, Sughd Province, Tajikistan -- The story of three Tajik men as told by a district court judge in Sughd Province illuminates how the "Islamic State of Iraq and the Levant" (ISIL) manipulates the financial state of vulnerable people to turn them into potential recruits.
Spitamen District Court Judge Loiksho Zikirzoda told Caravanserai the story of Murojon Ermatov and a pair of brothers earlier this month.
Zirkzoda's court last year sentenced Ermatov, 28, of Okteppa to 15 years in prison. Ermatov was an ISIL member based in Mosul, Iraq, "who was recruited while being a migrant worker", the judge said.
"During the trial, Ermatov confessed to being a member of ISIL's security service who ... protected smuggled goods going on the road between Mosul and al-Raqa, [Syria]," he said. "He didn't fight, but he helped strengthen ISIL's economy."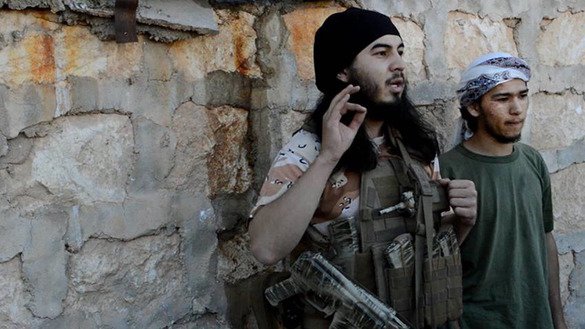 Ermatov, like many other villagers from his area, went abroad to find work after finishing high school, Caravanserai learned from court documents. He had been working in construction since 2006.
Ermatov's downward spiral began when he was going to the mosque in Novosibirsk with two brothers from his hometown, Bekmurod and Shukhrat Satimov.
They encountered three Kyrgyz and a man named Abdullo from Uzbekistan.
Abdullo often spoke of the need to need to support Muslims in Syria and Iraq and of the lucrative jobs available in those countries, according to Ermatov's trial documents.
"After meeting in the mosque ... the Tajiks, Kyrgyz and Uzbeks formed a network to recruit and raise funds for ISIL," said Zirkzoda. "It was here that Ermatov and Shukhrat Satimov's recruitment began and that Bekmurod Satimov agreed to support ISIL financially."
Recruiting scheme
Ermatov had to support his wife, two children and mother. Moreover, he was seeking a large sum to pay one son's medical bills.
In November 2014, terrorist recruiters met Ermatov at the Istanbul airport and sent him to Syria two days later and subsequently to Mosul.
"The recruiters took advantage of the financial difficulties Ermatov was experiencing," Zikirzoda said. "That's their signature move."
Ermatov testified that he wanted to turn himself in but that Turkish police nabbed him in Istanbul first.
The date of his arrest was not reported. Turkey extradited Ermatov to Tajikistan last autumn.
"His extradition was the deciding factor in the verdict," Zirkzoda said. "There was no evidence of a voluntary return."
The two Satimov brothers also got wrapped up in the recruiting schemes while they were working in Novosibirsk.
Shukhrat Satimov is said to be fighting alongside ISIL in Syria still, while Bekmurod Satimov received an eight-year prison sentence "for staying in touch on the internet with his ... brother and for sending money to him", Maftuna Satimova, Bekmurod's wife, told Caravanserai.
Bekmurod was convicted at the same trial as Ermatov.
"My husband was detained in Novosibirsk and extradited," said Satimova. "The court said he sent money to Syria several times."
Terrorists "had the idea that if you can't fight, at least you can help out with money", she said.
Sabohat Mirzokulova, secretary of the Istiklol Jamoat (municipality) government in Okteppa, recalled teaching at the school in the early 2000's, when the Satimov brothers and Ermatov were all schoolchildren there.
She learned about Bekmurod Satimov and Ermatov's convictions from their relatives, she said.
Their "relatives told me that Shukhrat Satimov is on the wanted list," Mirzokulova told Caravanserai. "Ermatov last saw him in Mosul, Iraq."
"I taught all three of them," she said tearfully. "I always thought [they] would become educated and successful."
"They come from good families," she added. "It's clear that financial difficulties sent them down the wrong path."
Counter-recruiting efforts
More than 1,100 Tajik citizens have signed up as militants abroad since 2011, including 150 who took their families with them, according to the Interior Ministry.
Those militants include 322 residents of Sughd Province who went to Syria, according to provincial government chairman Abdurakhmon Kodiri.
"Of that number, 51 have already died," he said at a February 17 news conference.
Another 51 Sughd Province residents "are fighting in Afghanistan and 73 others in Pakistan", he added.
Bulletin boards placed outside jamoat (municipality) government offices in Istiklol Jamoat and elsewhere in Spitamen District display photos of 36 local residents, including two women, who are said to be militants abroad.