TASHKENT -- The Uzbek government is introducing healthcare reforms meant to root out bribery, increase the number of qualified medical personnel in state clinics, improve emergency services and restrain drug prices.
Health Minister Alisher Shadmanov, who took office February 20, will oversee reforms to improve medical care for those citizens who cannot afford treatment in private clinics, as opposed to free-of-charge state institutions.
Shadmanov is an M.D. and in recent years chaired the parliamentary Science, Education, Culture and Sports Committee.
Free clinics and emergency care
"Uzbekistan has a developed system of state medical facilities," Daniya Agzamova, a doctor who transitioned from a state clinic to private practice in Tashkent, told Caravanserai. "You can go to a private clinic [and pay] or use a free state clinic. Emergency care is free too."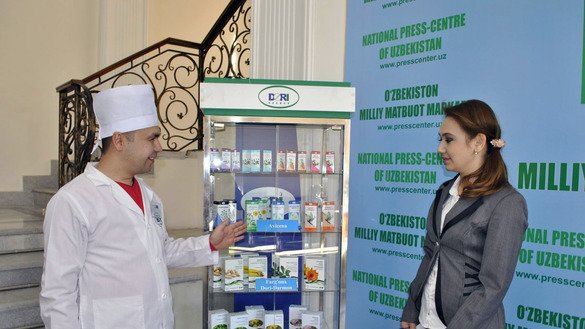 "But citizens are not satisfied with the quality of free health care," she said. "We need to modernise hospitals and clinics."
For various reasons, Uzbekistanis are finding it harder to see a doctor in a state institution. The number of patients treated at state facilities rose 6% between 2010 and 2015, while the number of doctors working in those places rose only 4%, according to the Health Ministry. Some physicians joined private practices, while others left the field in search of higher incomes.
"You know for certain that an ambulance will come and that it will be free," Sofiya Seitmagambetova of Tashkent told Caravanserai. "But sometimes you wait for more than an hour."
"You receive adequate care in a free hospital only if you pay a bribe," she said.
The promise of free medical care in state facilities founders because of "low salaries for doctors and nurses, which breed corruption," said Agzamova.
"A primary care physician makes about 1 million UZS [US $297] a month," she said.
"I prefer to go to private clinics," Yevgeny Linetskii of Tashkent told Caravanserai. "The state healthcare system can't retain good specialists."
Health care key, president says
Soon after taking the oath of office as president last December, Shavkat Mirziyoyev drew attention to corruption, poor care and overpriced medicine nationwide, especially in the provinces.
"Reforming health care is a key area of state policy," he told a group of healthcare specialists in Tashkent January 5, according to the Uzbekistan National News Agency. "People's needs are growing ... the demand for cutting-edge medical services has grown."
On January 15, Mirziyoyev announced a healthcare reform package in Tashkent, according to his press office. He ordered the cabinet to devise suggestions for building medical centres in rural areas, reforming existing rural medical centres and fixing the drug pricing system, among other priorities.
During a February 7 Tashkent discussion of healthcare reforms, Mirziyoyev noted some of the system's shortcomings, according to Novosti Uzbekistana.
"If you live in Denau, you have to drive 100km to Termez to do a blood test," he said.
Even though state medical care is officially free, his official website receives constant complaints of bribes demanded for "a bed, a shot, even for medicines", he said in his speech.
Regulating drug prices
At the same time, Uzbekistan is working to rein in prices for life-saving medications that many patients find unaffordable.
A presidential resolution of October 31 established a list of 116 domestic and 227 imported medicines that have fixed wholesale and retail prices.
The resolution enables wholesalers and pharmacies to make a profit but bars them from gouging customers, State Committee for Privatisation, Demonopolisation and Development of Competition spokesman Bakhtiyor Khamrayev told Caravanserai.
Pharmacies in violation "will lose their licenses", he said.
Domestic, fixed-price medicines entered the market January 5, while imported, fixed-price medicines began selling February 16.
"The market will have to adjust to new realities," Sergei Li, a spokesman for a Tashkent branch of a foreign pharmaceutical company, told Caravanserai.
"Many pharmacists ... would sell an unpopular medicine below cost and would sell a medicine with high demand for much more, to cover the loss on the [first drug]," he said. "Now they'll have to abandon that model. I think many pharmacies will have to close or cut back on selection."