ASTANA -- Kazakhstani authorities are set to try a long-wanted suspected extremist ideologue, Abdukhalil Abdujabbarov, in what many see as a victory against the spread of radical ideology.
The Kazakhstani national had lived in Saudi Arabia with his family of 10 children since 2006. Kazakhstani authorities worked for years to extradite him, but success came slowly -- first, with his arrest in Medina in December 2015, and second, with his deportation February 18, which the Kazakhstani National Security Committee (KNB) reported on its website.
Since 2015, the man known as "Sheikh Khalil" had been wanted internationally in connection with charges of "inciting religious hatred ... and propagating terrorism" under Kazakhstani law, according to the KNB. For years he operated a website containing audio files of his sermons.
Abdujabbarov is in custody in Uralsk and awaiting trial.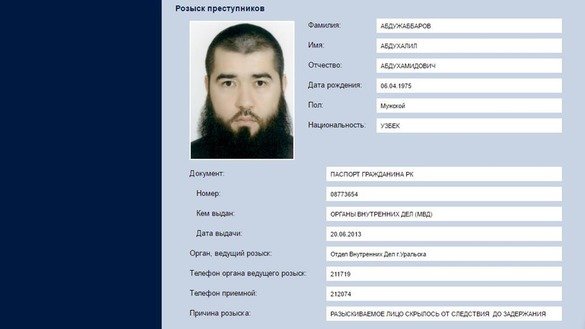 "His wife ... and their children are in their hometown in Sayram District, South Kazakhstan Province," a source in the West Kazakhstan Province police's Centre for Operational Information told Caravanserai on condition of anonymity. "As far as I know, no charges await her."
Triumph for Kazakhstani diplomacy
Observers are hailing Abdujabbarov's extradition.
"This is a triumph for the Kazakhstani government's international negotiations and for co-operation between Kazakhstani and foreign law enforcement agencies," Oleg Krutov of the Taraz-based NGO Youth Centre for Reconstruction and Development told Caravanserai.
Saudi Arabia deported Abdujabbarov thanks to "an agreement on extradition ... reached during President [Nursultan] Nazarbayev's trip to Saudi Arabia [last October]", said Asylbek Izabairov of Astana, a scholar of extremism, according to a February 21 zakon.kz report.
"This is a great achievement for Kazakhstan in the fight against the spread of radical ideology," Gulnaz Razdykova, chairwoman of the Pavlovdar-based Centre for Analysis and Development of Inter-Faith Relations, told Caravanserai.
After nine years of living in Saudi Arabia, Abdujabbarov "attracted the attention of Saudi Arabia's security agencies ... because of his contacts with the terrorist organisations 'Islamic State of Iraq and the Levant' [ISIL] and Jabhat al-Nusra," said the West Kazakhstan Province police source.
Who is 'Sheikh Khalil'?
Abdujabbarov, 42, was born in South Kazakhstan Province.
Abdujabbarov early in life attracted no attention from Kazakhstani authorities. He studied in a mosque in South Kazakhstan Province and at a university Pakistan before teaching in 2000 at Kazakhstan-Kuwait University in Shymkent.
In the early 2000s, his thinking apparently took a radical turn, as he created an extremist organisation in Atyrau. Authorities accuse him of helping create radical cells in Atyrau, Aktobe and Uralsk.
In 2003, authorities began to take notice of his activities, and three years later he moved to Saudi Arabia, where he stayed until 2017.
From there, he spread inflammatory propaganda on the internet and among Kazakhstanis studying in Saudi Arabia, say Kazakhstani authorities.
'Poisoning' youth
Abdujabbarov had a long career of sowing the "dragon's fangs" of extremism among impressionable Kazakhstani youths, Almaty-based theologian Ali Apsheroni told Caravanserai.
The suspect's online propaganda messages inspired dozens of Kazakhstanis to go fight in Syria and Afghanistan, Amanjol Urazbayev, chairman of the Astana-based NGO Counter-Terrorism Committee of Kazakhstan, told Channel One Eurasia February 21, adding that such recruits became "cannon fodder".
Abdujabbarov inspired radicalised Kazakhstanis to commit terrorist attacks at home, contends the KNB. In 2016 generally peaceful Kazakhstan was rocked by terrorist slayings in Aktobe and Almaty.
Putting Abdujabbarov on trial is an important step for relatives of the youths "whom he caused to stray from the right path", said Krutov, adding, "Their loved ones want [him] to face a court."
If Abdujabbarov is convicted, he no longer will "influence Kazakhstani college students abroad", said Krutov.
Takfiri
Abdujabbarov is an adherent of takfirism, according to the KNB.
Namely, he accuses Muslims who do not agree with him of being apostates and of deserving death for their perceived impurity, explained Apsheroni.
Abdujabbarov, with his takfiri propaganda, "bears responsibility for all of the ideology's appearances in our country, including the terrorist attacks of recent years", said Izbairov, as reported by zakon.kz
"With the arrest of Abdujabbarov, the promotion of takfirism on the internet will definitely plummet", predicted Razdykova, the think tank chairwoman in Pavlodar.