BUKHARA, Uzbekistan -- The ancient city of Bukhara, more than 2,000 years old, is revered as a centre of Islamic learning and as the birthplace of the ninth-century Islamic scholar Imam Bukhari.
The city is also an official UNESCO site.
Uzbekistani officials are seeking to make Bukhara the tourism hub of their country.
In late March, Uzbekistani state agencies began discussing a project to accelerate the development of tourism in Bukhara through 2019.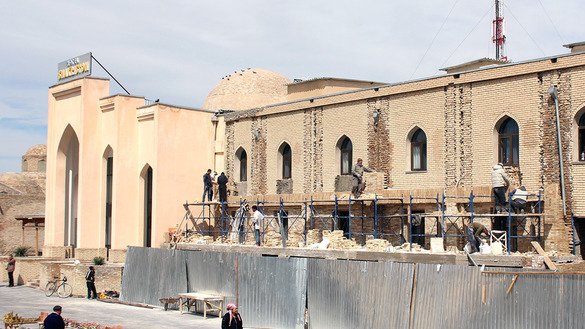 Officials are considering ideas such as establishing a duty-free zone for tourism-oriented businesses and the country's first tourism police force.
Another priority is the development of transport infrastructure to facilitate a high volume of tourists.
High-speed train service between Tashkent and Bukhara began March 22, and charter flights from Tokyo to Samarkand -- another historic Uzbekistani city -- began April 7.
Development priorities
With Bukhara full of attractions, the government is prioritising the development of the city and the province between now and 2019.
"The historical monuments here have not lost their significance even centuries later," President Shavkat Mirziyoyev said on a visit to Bukhara March 10, according to the Uzbekistan National News Agency. "Foreign tourists will always be highly interested in them."
Plans for Bukhara include spending 18.5 billion UZS ($5.1 million) on 39 projects through 2019, as the State Committee for Tourism Development (GKRT) announced March 23.
Those plans include "building a handicrafts quarter and handicrafts market, improving transport and hotels ... and organising festivals," a GKRT spokeswoman, Kamila Baisangurova, told Caravanserai.
The government also plans to build a Bukhara history museum, as revealed during Mirziyoyev's visit.
Duty-free zone
One incentive that officials have in mind is building a duty-free zone in Bukhara.
Construction of the Bokiy Bukhoro zone is expected to last from July 1, 2017, to March 2018.
"All businesses within the zone will be exempt from paying taxes and customs duties for 3-10 years, depending on how much they invest," said Baisangurova. "Tourists will be able to relax after visiting historical monuments, stay at a hotel and visit discos, nightclubs, restaurants and stores."
"I have a small business selling souvenirs ... but pay about 28% of my income in taxes," Bukhara businesswoman Farangis Umarova told Caravanserai. "If they open the free economic zone, I'll be able to relocate my business and develop it."
To make the hoped-for influx of tourists to Bukhara more comfortable, the country is planning to establish a tourism police for the first time. If plans take hold, it will begin operation in Bukhara in 2018.
Officers in the force "will be able to speak foreign languages, to understand what foreign tourists are asking for, and to aid them in emergencies", according to the 2017-2019 development plan.
Travel improvements
Uzbekistan is also trying to make it easier to reach tourist hubs like Bukhara.
On March 22, for example, the Spanish-built Afrasiab-3 high-speed train made its inaugural journey from Tashkent to Bukhara, Uzbekistan Railways spokesman Oibek Mamadaliyev told Caravanserai.
The one-way fare is 88,000 UZS ($24).
"I'm thrilled with the Afrasiab train," Sherzod Akhunjanov of Tashkent, who arrived in Bukhara April 3, told Caravanserai. "The trip takes only 3.5 hours instead of six or seven hours on a regular train."
Uzbekistan Airways is planning to offer charter flights from various cities starting in May.
"The first charter flight from Japan arrived in Samarkand April 7," said Baisangurova of the GKRT. "By the end of the year we'll have operated 10 charter flights [between Japan and Samarkand] carrying 2,500 tourists."
Ongoing issues
Despite the efforts to improve the tourism sector, insiders say there is plenty of room for improvement
"Our tourism sector is full of red tape," Yekaterina Kan, an employee of the Tashkent-based travel agency Myurid Travel, told Caravanserai.
"Foreigners have trouble getting visas. Plane tickets and hotels cost more than they do in Europe. Legal barriers are a major obstacle to private businesses," she said.
The State Committee for Tourism Development (Goskomturism) on February 21 published the 2017-2021 Tourism Sector Development Concept, a planning document, for public discussion.
"We're grappling with many challenges that we need to resolve to ... turn the tourism sector into a locomotive for developing rural areas," according to the document, which the government published online. "Tourism accounted for 3.2% of the country's GDP in 2015."