OSH, Kyrgyzstan -- Leaders of women's associations from the three countries that share the Fergana Valley participated in an event that took place in Osh, Kyrgyzstan, April 13-15 to strengthen regional peace and co-operation.
"Our goal is to use this fair as a bridge to forge regional, trade, and cultural ties between participants from Tajikistan, Uzbekistan, and Kyrgyzstan," Aziza Yuldasheva, acting director of the Kyrgyzstani Association of Agro-businessmen Jer Azygy, told Caravanserai.
Participants represented businesses such as manufacturing and food processing, sewed goods, and handicrafts.
"Women make up the majority of these sectors," Yuldasheva said. "Thanks to this meeting, these women will be able to establish mutually beneficial co-operation and sign official contracts in the future."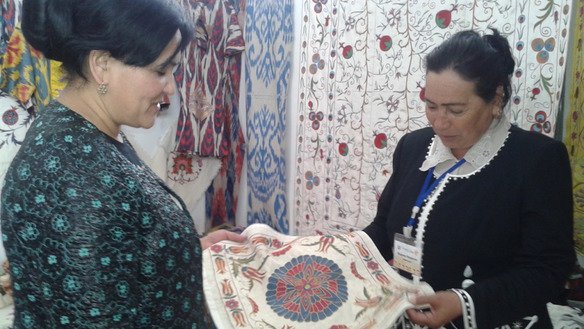 As a part of the event, women from the three countries held a forum and raised questions about border trade, discussed their economic potential, and planned joint projects to strengthen peace and security in the region, she said.
"During this forum we became acquainted with women from neighbouring countries and exchanged contact information so that in the future, we will develop not only trade but also cross-cultural connections," Saodat Saydaliyeva, a member of the Tajikistani Association of Businesswomen from Khatlon Province, told Caravanserai.
Preserving culture and traditions
She said the fair participants showed off their products and national wares that capture the history and cultural heritage of their native land.
"We hung handmade clothes on our stand along with decorations, our famous khan-atlas cloth, suzani textiles, wall panels, female head scarves, felt, carpet, and pottery. We learned the secrets of making all of these things from our mothers and grandmothers," Saydaliyeva said.
She also remarked that such events promote peace in Fergana Valley and strengthen co-operation among leaders of female organisations who advocate for maintaining neighbourly relations in the region.
"We are resurrecting now forgotten styles of women's clothing that were popular when our grandmothers and ancestors were alive. At the same time, we are showing where our culture, way of life, and diverse material heritage come from," Rislikhon Jurayeva, director of the Centre for Art and Handicrafts from Namangan Province, Uzbekistan, told Caravanserai.
"I was really amazed by the diversity of the fair - this incredible event embodies peace, tranquility, and neighbourly relations in our troubled region," said Akparaly Makhkamov, a businessman from Kyzyl-Kiya, Batken Province, who attended the fair.
Sharing experience
The project initiators organised master classes in which women learned various tricks of the trade from each other, gained knowledge and developed skills to be successful in their fields.
"I am very glad that I found new friends here from Kyrgyzstan and Tajikistan who have shared their experience and skills, and talked about their successes and accomplishments in their sectors," Jurayeva said.
"It was nice to see how the keepers of homes and hearts share their secrets," Makhkamov said. "The master classes on embroidery, felt design, sewing, and producing dried apricots helped me learn more about the latest methods and skills, which will help all of us."
In all, 70 organisations from Gorno-Badakhshan, Khatlon, and Sughd provinces of Tajikistan; Namangan, Andijan, and Fergana provinces of Uzbekistan; and Batken, Osh, and Jalal-Abad provinces of Kyrgyzstan took part in the fair.
Yuldasheva said the organisers of the event are planning to hold more such fairs in the future.