TASHKENT -- The restoration of nonstop flights between Uzbekistan and Pakistan is the latest example of increasing co-operation between the two countries, officials and observers say.
On April 5, Uzbekistan Airways took travelers from Tashkent and Lahore. The last time there were nonstop flights between the two countries was in 2013.
Planes from Tashkent to Lahore now fly every Wednesday and Thursday. The cost of a round-trip ticket is 1,685,000 UZS ($461) for economy class, and 3,590,000 UZS ($983) for business class.
This is a great achievement, Uzbek Ambassador to Pakistan Furkat Sidikov told the state-run Pakistani news agency Dispatch News Desk April 5, during a reception at the Islamabad Airport to welcome the flight.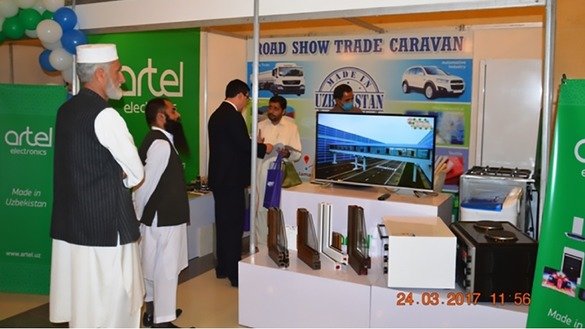 He said these flights will take already improved relations between Pakistan and Uzbekistan up to a new level and enhance cultural exchange between the two countries.
The flight to Lahore is the only flight to Pakistan from Central Asia, Ekaterina Kan, an employee at Uzbek travel agency Myurid-travel, told Caravanserai.
''It is very attractive as a transfer route," she said. "Pakistanis, with a layover in Tashkent, gain access to ... the Caucasus, and Europe. We expect a large flow of Pakistani pilgrims that will want to see Islamic holy sites in Uzbekistan."
Boosting economic co-operation
Uzbek diplomats timed a trip to Punjab Province April 4-6 to coincide with the events in Lahore and promote joint co-operation in trade. Diplomats met with Punjab Chief Minister Shahbaz Sharif to discuss Uzbekistan's economic and export potential.
"Uzbekistan wants to co-operate with Pakistan, especially Punjab, in different fields," the Pakistani newspaper The Nation reported April 6, quoting Sidikov during a meeting with Sharif in Lahore.
''Uzbekistan is the best market for export of fruits and we will take steps to export fruit to Uzbek brothers," Sharif said, according to the publication.
Authorities in Tashkent are also trying to attract Pakistani businesspeople to invest in Uzbekistan.
Uzbek diplomats, together with the Pakistani Institute of Peace and Diplomatic Studies, organised a roundtable on April 5 in Islamabad dedicated to Uzbekistan's investment climate. Pakistani politicians, business representatives and scientists attended the event.
Both countries hope to improve the positive pattern in trade turnover that has taken shape in recent years. According to information from the Pakistani Ministry of Foreign Affairs, in 2015-2016 trade increased by $900,000 in comparison with 2014-2015, and reached $3.9 million.
Showcasing goods
Uzbek entrepreneurs have been successful in showcasing their goods at exhibitions in Pakistan, hoping to enter the market.
''On March 7 in Islamabad, we opened a hall with a permanent exhibition of Uzbek goods called 'Trade Caravan: Made in Uzbekistan'," Nurali Kuziyev, a spokesman for the Uzbek Ministry of Foreign Economic Relations, Investments and Trade, told Caravanserai. "There are samples of different Uzbek goods on display there, from construction materials to household appliances."
March 24-26, Uzbek goods were presented at the Abad-Jang Expo in Islamabad, he said.
Caravanserai previously reported about how business representatives from the two countries intensified co-operation after talks between Uzbekistani and Pakistani officials in Islamabad last December.
Officials during that meeting also spoke about how the two countries would jointly fight the growing threat of extremism.