BISHKEK -- Kyrgyzstan's state prison system (the GSIN) recently invited UN and Japanese officials to discuss ways to prevent radicalisation in Kyrgyz prisons in the hope that international specialists can help strengthen the system's work with terrorist and extremist inmates.
"Kyrgyzstan is stepping up efforts to combat religious extremism and terrorism, and that includes working with individuals convicted of extremism and terrorism," Vasilina Brazhko, spokeswoman for the UN Office on Drugs and Crime (UNODC) in Kyrgyzstan, told Caravanserai.
Representatives of Kyrgyz law enforcement and civil society, as well as various international organisations, gathered in Bishkek April 11 to "determine what efforts are necessary to get convicted extremists to renounce violence and reintegrate them into society", she said.
On the same day, officials from the GSIN and UNODC signed an action plan on preventing extremism and terrorism, beefing up inter-agency and regional co-operation, and developing plans to re-integrate convicted extremists in society.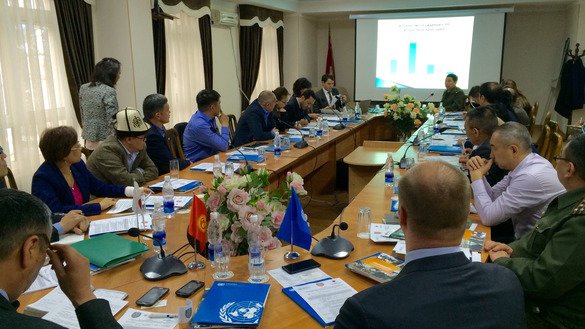 The work is supposed to be part of the UNODC Programme for Central Asia in 2015-2019.
The UNODC has published a guidebook advising authorities how to work with extremists and how to prevent radicalism in prisons, said Alexander Fedulov, director of the UNODC Programme office in Kyrgyzstan, at the conference.
Imprisoned radicals
The number of extremists in prisons has grown significantly in Kyrgyzstan, according to Ulukbek Artykov, a senior criminal investigator at GSIN headquarters.
In 2009, only 51 prisoners were serving time for extremism and terrorism.
Now that number has exceeded 185, including seven women, according to the GSIN, said Taalaibek Japarov, chairman of the GSIN, at the conference.
Among these convicts, "84 are first-time offenders and 38 are incarcerated in maximum-security prisons," Artykov told Caravanserai.
The detained extremists include 22 convicted of fighting as insurgents in Syria, said Artykov, and 97 were members of Hizb ut-Tahrir.
Japan to help remedy problems
Kyrgyzstan has yet to develop effective measures to counter extremism in prisons, said Japarov.
The GSIN needs to step up work with prisoners convicted of extremism or terrorism, said Vera Tkachenko, an UNODC international project manager in Bishkek.
Kyrgyz prisons "are overflowing", she told Caravanserai. "Conditions for inmates are poor ... and funding is inadequate."
Corruption "impedes the implementation of policies to prevent extremism and terrorism behind bars", she said. "It's critical to develop a psychology department for prisons."
Japan is stepping up with help for Kyrgyzstan.
In March in Vienna, Japan signed an agreement with the UNODC committing it to provide $985,000 (66.1 million KGS) to the Kyrgyz penal system, said Brazhko. The GSIN will spend the funds within a year, Brazhko added.
Japan will help Kyrgyzstan "fight radicalisation and violent extremism in prisons" in the interests of stability and sustainable development in the country, Japanese Ambassador to Kyrgyzstan Yoshihiro Yamamura said at the April 11 conference.
Educating prisoners, preventing radicalisation
The GSIN has partnered with the Interior Ministry (MVD) and country's muftiate to run an education programme in prisons.
Those agencies, collaborating with the State National Security Committee (GKNB) are providing education for extremists and other convicts that explains the differences between traditional Islam and extremism, said Artykov.
Officials keep inmates under constant monitoring, as well as their meetings with relatives and friends and their incoming letters and packages, he said.
"We scrutinise the materials that prisoners read, since convicted extremists have shared banned [extremist] literature with other inmates," added Artykov. "The GSIN has an educational centre that holds seminars to provide continuing education for prison staff who work with this category of prisoners."
In 2015, Kyrgyzstan amended its Criminal Code to separate convicted extremists from the rest of the prison population, he said. They now dwell in separate cells.