KARAGANDA, Kazakhstan -- Kazakhstan is conducting an anti-extremism programme that will have security officers and religious scholars visit families in cities and districts in Karaganda Province during the next two months.
"Public Trust" is scheduled to run from March 20 till the end of May.
The programme has three main goals, according to the province's General Prosecutor's Office: persuading the public to inform the police about suspicious individuals, resolving acute social problems and holding preventive meetings with individuals who might be inclined to radicalisation.
Officials developed the programme in March and conducted the first "house calls" on residences in Bukhar-Zhyrau District April 17-21, the provincial governor's office (akimat) told Caravanserai.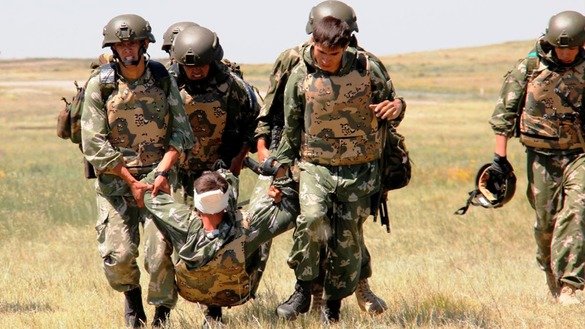 Hopes for the programme
"Public Trust" will help identify extremists and terrorists before they act, the programme's founders hope.
Under the programme, groups comprised of civil servants, officials from the Spiritual Administration of Muslims of Kazakhstan (DUMK), theologians and other specialists visit residents at home and organise public outreach meetings.
"We have created 12 groups," Meiram Tautenov, deputy general prosecutor for Karaganda Province, told Caravanserai. "We are taking steps to boost confidence in law enforcement agencies."
Authorities will divide all neighbourhoods into blocks, each block monitored by its own police inspector and every apartment building by its own "senior tenant", he said.
Only weeks into the programme, results have occurred, say officials. Already the provincial General Prosecutor's Office has registered more than 600 reports of suspicious individuals and of possible meetings of radical groups.
The office is investigating all such reports.
The authorities carrying out the strategy need to pay attention to some details, Almaty writer and theologian Ali Apsheroni told Caravanserai.
"Much will depend on specific actions taken on the local level," he said, citing the likely reluctance of many citizens to notify police about radicals.
Focusing on social issues
Social problems like poverty create fertile soil for extremism, say specialists.
For example, the unemployed commit more than 75% of crimes in Karaganda Province, Lyudmila Ifantidi, a social worker in the province, told Caravanserai.
That figure "includes offences linked to extremism", she added.
"If someone is idle and has no money, it gives rise to embitterment and criminal thoughts," she said.
As part of the effort to defuse such sentiments, provincial authorities "have provided 200 needy families with [economic and educational] assistance" since the "Public Trust" programme began in late March, the provincial General Prosecutor's Office said in a statement April 5.
Beneficiaries include Bulat Kairbekov, 54, of Karaganda Province, who told Caravanserai he already has two job offers through the programme.
"They helped me register with the [local] Employment Centre, and now I will receive benefits and hope that I will find a job," a 54-year-old Bulat Kairbekov of Karaganda, told Caravanserai. "They are already offering me good options -- working in a factory or landscaping for the city."
Trained specialists
Under the programme, theologians, psychologists and clerics talk to individuals whom authorities have identified as inclined to radicalism, Karaganda psychologist Juldyz Jumayeva told Caravanserai.
"This strategy looks simple, but it works because the person talks to competent specialists," she said. "Their influence is stronger than that of extremists' sermons on the internet."
The potential of "Public Trust" is already visible, and other provinces can benefit from such a programme, said Tautenov.