DUSHANBE -- Observers are hailing a recently concluded Uzbekistani trade fair in Dushanbe as a success.
Businesses from the two countries signed 20 deals worth more than $35 million during the April 17-20 fair.
"Co-operation between Uzbekistan and Tajikistan means creating a new path in economic development," Ibrokhim Ergashev, chairman of the Uzbekistani exhibition-staging firm Uzexpocentre, said at the opening ceremony April 17. "It will help the countries diversify their domestic markets and favourably impact the development and deepening of bilateral trade."
Uzexpocentre and the Tajik and Uzbekistani Chambers of Commerce and Industry organised the event, which attracted 160 Uzbekistani firms eager to promote and sell their manufactured goods.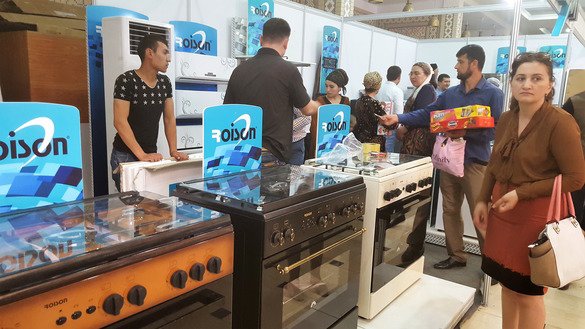 The Poytakht-90 Trade Centre in Dushanbe became a showcase for fabrics, foods, wines and spirits, construction materials and other merchandise.
Goods on display went on sale the last day of the exhibition, selling out in a few hours.
"For Tajikistan, long-term and friendly relations with Uzbekistan have been a historic necessity," said Faiziddin Kakhkhorzoda, chairman of the Tajik State Committee on Investments and State Property Management, at the fair opening. "We are prepared to take measures to foster bilateral trade."
Business owners optimistic
"Our company is expanding, and we want to find a new market," Ravshanbek Karimov, director of the Uzavtoprom branch in Andijan, Uzbekistan, told Caravanserai. "Almost 40 people expressed their interest in collaborating with us."
His company, which assembles cars, has the goal of becoming a recognisable brand in Tajikistan, he predicted, citing its prices and quality.
"We were glad to see how warmly Tajikistan welcomed us, and we're counting on long-term and fruitful co-operation," Sukhrob Babayev, a spokesman for the Uzbekistani firm Sharq Ipagi Durdonasi (Pearl of the East), which manufactures and sells high-quality fabrics (called atlas and adras), told Caravanserai.
After the fair, his company already has a list of Tajik firms interested in co-operation, said Babayev.
Tajiks impressed by quality and low prices
About 50,000 residents of Dushanbe visited the fair, and many seemed impressed by the quality and prices they found.
On the last day of the event, dozens of women descended on the showroom in pursuit of fabric for traditional dresses. A square meter of cloth was available for 9 to 15 TJS ($1 to $1.50), far underselling the Tajik fabrics costing at least 30 TJS ($3.50) per square meter in Dushanbe markets.
"I am buying atlas for both my daughters," Farida Safiyeva, 40, of Dushanbe told Caravanserai. "They'll be very glad and will sew traditional dresses."
Mokhira Ottanjanova, 35, bought an electrical stove for 1,500 TJS ($177).
"A similar stove in Dushanbe stores would cost at least 3,000 to 4,000 TJS [$353 to $471]," she told Caravanserai. "This is the first time I've bought an Uzbekistani product. Everything here is pretty and looks well made."
Boosting economic co-operation
Since taking office in 2016, Uzbekistani President Shavkat Mirziyoyev has worked for more co-operation with his country's neighbours -- a strategy that could bear more fruit in 2017.
Trade between the two countries grew in 2016 and stands to keep increasing, say observers.
In 2016, Uzbekistani-Tajik trade totalled more than $69.2 million, according to the Tajik government. That figure was near 6-fold larger than the figure for 2015.
The fair marks an effective start for more trade between the neighbours, Dushanbe economist Ekhson Sharipov told Caravanserai.
"We're importing goods from Dubai, Turkey and other countries, even though Uzbekistani goods are much cheaper and no worse," he said. "By importing goods from Uzbekistan, we'll save money on transportation, which we can pass on to Tajik customers."
During the fair, Uzbekistani and Tajik business leaders signed 20 contracts worth more than $35 million.
The deals include an agreement worth $1.8 million, under which Uzavtosanoat committed to supply automobile parts to Lesinvest and Taj Motors, according to the Tajik Chamber of Commerce and Industry.