ALMATY -- Kazakhstan has opened a reception centre in Almaty, where specialists, reporters, and Almaty residents and visitors can receive consultations about religious issues.
The effort comes as Kazakhstan grapples with radicalisation that has persuaded several hundred citizens to go fight in Syria and Iraq, as well as leading to deadly terrorist attacks at home in 2016.
At the Almaty centre, "journalists and bloggers receive advice on religious terminology and information on current religious events", Yuliya Denisenko, director of the Astana-based Association of Centres for the Study of Religions, told Caravanserai. "They have the opportunity to ask specialists in theology, religious studies and political science."
Almaty reporters and bloggers participated in the first such event April 20, which Denisenko's group and the Almaty city Administration for Religious Affairs organised.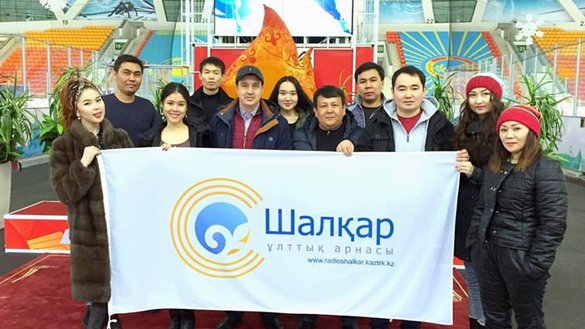 The centre represents a logical outgrowth of the Astana-based Centre for Advising Mass Media and Bloggers about Religious Issues, which Denisenko's group opened in Astana March 1.
The Astana centre -- mindful of the value of preventive work against extremism -- sends subscribers a newsletter via e-mail and WhatsApp about civic groups' events, initiatives and contests.
The Astana centre answers journalists and bloggers' queries and puts them in contact with theologians, political scientists and clerics to help strengthen their reporting.
The centre plans to organise professional development seminars for journalists and bloggers.
Supporting media efforts to prevent extremism
Journalists need to tread carefully in covering religion, said Denisenko, citing the potential for extremists to take offence.
"During a raid to capture terrorists in western Kazakhstan several years ago, [security forces] discovered 'hit lists' of journalists that extremists had drawn up," she said.
"I had to write about extremism and terrorism, and I know that journalists really need to know about such topics," Larisa Gubasheva, a correspondent for the Taraz-based newspaper Zhambyl Taraz, told Caravanserai.
Journalists should always be mindful that "fanatics ... might seek revenge", she said.
Another undertaking that Denisenko's group supports is religious broadcasts aired on Radio Shalkar and prepared by the Spiritual Administration of Muslims of Kazakhstan (DUMK).
'The Muftiate's Podium'
DUMK and Radio Shalkar collaborated on a Kazakh-language radio programme called "The Muftiate's Podium," which is meant to prevent extremism and terrorism, a source at Radio Shalkar told Caravanserai April 17.
"It's a joint project," Nurmat Mansurov, editor of the programme, told Caravanserai. "The mufti of Kazakhstan delivers a Friday sermon ... on topics relevant to the whole country."
The sermons air every Friday at noon and last 12 to 14 minutes, he said. The station is found at 100.4 MHz on the dial or online at shalkarfm.kz/kz/online.
Those radio broadcasts "discuss the differences between traditional Islam and destructive movements", DUMK spokesman Agabek Sydykov told Caravanserai. "Listeners learn how to identify radical groups."
Radio Shalkar has high ratings and an audience of Kazakh speakers extending into the countryside, he said, adding that is why DUMK chose the station to carry the sermons.
"The [messages] from the supreme mufti and the imams of DUMK are like a breath of fresh air for us," Beibut Shugaipov of Shymkent, who listens to the broadcast, told Caravanserai. "My son and I listen to the broadcasts together."
It is "very important that clerics speak about the terrorism problem and about how radicals want to brainwash youth", he said.
DUMK adopts new strategy
Radio is only part of DUMK's efforts to combat extremism, say observers.
"DUMK is looking for new approaches for [reaching out to] Kazakhstanis," Taraz theologian Sanjar Suleimenov told Caravanserai. "Radio progammes that talk about traditional values already help prevent extremism just by existing."
The clergy never used to be so open with media before, Shymkent blogger Kseniya Panina told Caravanserai.
"Lately I've been seeing some profound changes," she said. "DUMK officials now seek contact with journalists and bloggers."
"We [media] are interested in objectively covering the processes going on in our country, including radicalisation and the fight against terrorism," she said. "DUMK is interested in doing prevention work through the media and having its activities covered. Our interests coincide."