ISFARA, Tajikistan -- For the first time since a border dispute in 2014, Kyrgyz farmers and business owners crossed over the border on a officially sanctioned visit to sell and buy goods in Tajikistan.
From April 30-May 7, Kyrgyz entrepreneurs from Batken Province visited the Tajik towns of Chorkukh, Vorukh and Surkh in Isfara District, Sughd Province.
This development comes after a two-year suspension of trade in a number of border zone areas following a flare-up of border disputes in 2013-2014.
The UN Development Programme (UNDP) supports the initiative by organising meetings with both countries' local, border guard, customs and police officials, including one in Isfara, Tajikistan, April 12.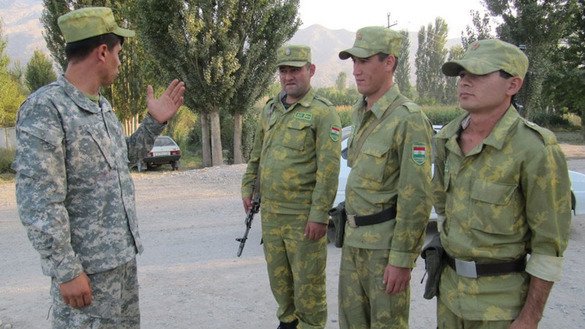 "Kyrgyz and Tajiks have always had close trade ties, and today we must share our potential, so that our people can live better," said Sobitjon Umarov, chief of the Isfara municipal government's economy and trade department, at the April 12 meeting.
"Trade can become a bridge that restores trust," said Abdipatta Pirnazarov, chief of the Batken District Agriculture Department, at the same meeting.
"We want to help people have a job, produce something, do business and raise their standard of living," said Parviz Akramov, the Tajik co-ordinator of the UNDP project Aid for Trade, at the conference.
Fears of "radical elements" creating a dispute during those visits proved baseless, Kanybek Salikhov, a resident of Samarkandak village, Kyrgyzstan, told Caravanserai.
Fight extremism through trade
Most residents of Ak-Tatyr village in Kyrgyzstan are involved in farming, Munisa Turayeva, a resident of that village and a border trader, told Caravanserai. Until 2014, she routinely sold produce in Tajik border markets.
For Tajiks who live near the border, buying Kyrgyz produce and meat is easier than transporting it from distant parts of Tajikistan, she said, adding that Kyrgyz also have the opportunity to buy Tajik manufactured goods at low prices.
"The main problem is security," Turayeva told Caravanserai. "However, stabilisatiion is now occurring."
The situation is improving, agreed Sairam Zulfikarova, resident of Aksai, another Kyrgyz village.
"We should restore trade between us and resume visiting each other's markets," she told Caravanserai. "Radicals arise from confrontation and unemployment. Trade and co-operation mean an effective partnership to fight [it]."
More economic ties, more trade
Events like the border zone clash in January 2014 caused Tajik-Kyrgyz trade to nose-dive. However, improving relations, which include continuing negotiations on border demarcation, have helped trade grow again, say observers.
In 2010, Tajik exports to and imports from Kyrgyzstan totalled more than $4 million and almost $9 million, respectively, according to Tajik statistics. Those numbers reached almost $5 million and more than $17 million in 2016.
However, those figures do not reflect the countries' true trade totals, say analysts.
"If we had statistics on what Tajiks and Kyrgyz buy from and sell to each other daily, the data would increase several-fold," Maruf Makhkamov, an analyst in Sughd Province, Tajikistan, told Caravanserai.
Rapprochement comes from the efforts of business owners like Farkhod Olimov and Nozim Ashurov of Tajikistan, who recently invited Kyrgyz colleagues to trade at a market in Chorkukh, Tajikistan.
"With the help of local police, we'll ensure their safety and the integrity of their property," Olimov, director of the Chorkukh market, told Caravanserai.
Formalising free trade
Despite the official ban on cross-border trade until last month, Tajiks and Kyrgyz operating in Sughd and Batken provinces have been trading since the 2014 incident, and already created a free trade zone in all but name, according to business owners from both countries.
The relationship represents "a unique form of free trade that sprang up naturally", Bekbolot Madymarov, chief of the Batken business association, told Caravanserai. "Authorities from both countries need only to formalise by law the [already-existing] free economic zone."
"Cross-border trade has always helped the Kyrgyz and Tajiks maintain a normal standard of living," Golib Urunov, director of Vorukh, a Tajik micro-lender, said the April 12 conference in Isfara. "We need to ... develop trade in border zone markets."