ASTANA -- Kazakhstani leaders and members of the public are voicing their concern over the religious knowledge of the country's clerics who grew up under the enforced atheism of Soviet times.
Concerned observers include President Nursultan Nazarbayev, who spoke about religious education of imams and youth at an April 19 Astana meeting with Spiritual Administration of Muslims of Kazakhstan (DUMK) officials.
"Only an educated imam can enlighten [the religious]," he said, according to his press office. "Imams should become thinkers with oratorical skills and knowledge of psychology."
Of DUMK's 3,800 imams, about half have taken continuing education courses, said Nazarbayev, calling that number "not enough".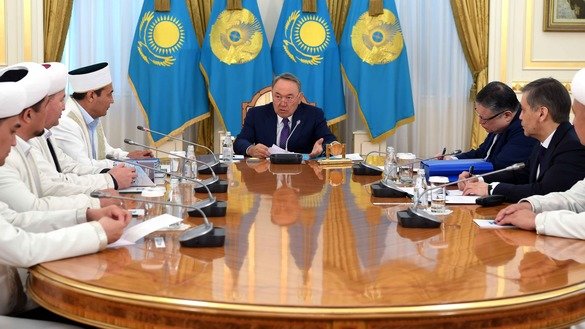 "The muftiate is striving to respond to modern challenges and is actively working with youth as much as possible to keep them away from the influence of destructive extremist ideas," DUMK spokesman Agabek Konarbayuly told Caravanserai.
Kazakhstani clergy have been busy fighting extremism, holding 1,400 conversations with known followers of extremist ideology last year, he said. That hard work enabled 533 radicals to return to traditional Islam, he said.
"Those aren't bad results, even though there is still a lot of work left to do, first and foremost with imams and youth," he said.
Imam training
Kazakhstani imams, except for the very young ones, still suffer from the Soviet-era suppression of religious studies, according to observers like Joldas Bertymuratov, himself an imam at Ak Meshit (White) Mosque in Pavlodar.
No specialised training for them existed in Soviet times or in the first years of Kazakhstan's independence, he said. The country has been independent since 1991.
"Specialised secondary schools and colleges for future imams appeared in Kazakhstan after the 2000s," he told Caravanserai. "That's why Kazakhstan still doesn't have a large clergy ... We need years of relentless work."
One effort to address this deficiency came at a nationwide conference on "Islam and civilisation," held in April in Astana, said Konarbayuly. About 500 Kazakhstani clerics attended the event.
He cited the conference's concluding document, a plan on how to prepare the "Best Intellectual Imam of the 21st Century".
The main goal set forth in that document "is training exemplary Kazakhstani imams who meet the needs of modern society," said Konarbayuly. "In 2016, we held 204 seminars for 3,000 imams and mullahs."
Kazakhstani clerics are studying in Egypt and Turkey to raise their qualifications, he added.
DUMK has certified the religious qualifications of about 3,000 imams in the past two years, he said. The imams who failed to demonstrate satisfactory knowledge are undergoing re-training.
Youth interest in clergy
"In recent years, we have seen youth show a growing interest in joining the clergy, and that's encouraging," said Bertymuratov the Pavlodar imam.
One sign of increasing youthful interest in clerical careers is high traffic on religious websites, according to DUMK. On average, the muftyat.kz and mazhab.kz sites receive 7,400 and 11,200 visitors daily, according to Zero.kz, a Web traffic-monitoring site.
Young Kazakhstanis who seek a career in Islamic education or clergy include Satanat Utesin.
"I always wanted to ... educate people about religion," Utesin, a freshman majoring in Islamic studies at Nur-Mubarak Egyptian University of Islamic Culture in Almaty, told Caravanserai. "After all, Islam isn't about wearing a black burqa, but first and foremost about love of peace."
After completing university, Utesin will receive a diploma in "khafizm" (knowing the Koran by heart).
"I haven't yet decided where I will teach," she said. "Kazakhstani women can teach at universities, seminaries and mosques. At any rate, I am certain that I chose the right profession."
Caravanserai reported earlier that 1,130 students are studying at the university and that another 1,321 are enrolled in nine Kazakhstani seminaries.
Each year, about 200 individuals graduate from Nur-Mubarak and another 150 from seminaries.
Sharing president's concern
Members of society share Nazarbayev's concern with clergy qualifications.
"I quite often go to mosque and ... am convinced that imams need to become more competent and work with their congregations as closely, intelligently and intensively as possible," Astana political scientist Talgat Kaliyev told Caravanserai.
"More and more terror attacks are occurring across the world," Almaty librarian Margarita Krasevich told Caravanserai. "To keep this wave from washing over Kazakhstan, we need to have imams step up their work and dedicate ourselves to training them properly."
Kazakhstan's clerics "often lack the experience and knowledge to convince people, especially youth", Shymkent student Askhat Kapenov told Caravanserai. "We need to work together [as a society] to fix that."