TASHKENT -- The assassination of an Uzbekistani militant commander in Syria shows the extent of the chaos in which Uzbekistani and ethnic Uzbek insurgents find themselves in the Middle East.
Imam Bukhari Jamaat (IBJ) commander Akmal Jurabayev, alias Sheikh Salakhuddin, was assassinated in Idlib Province, Syria, in late April. IBJ is affiliated with al-Qaeda.
A rival group, "Islamic State" (IS) Khorasan Province (the IS branch active in Pakistan and Afghanistan), took responsibility for his slaying.
Militant losses continue
For the radicalised ethnic Uzbeks from various countries fighting in the Middle East and South Asia, the Jurabayev assassination was yet another item in a succession of grim battlefield news.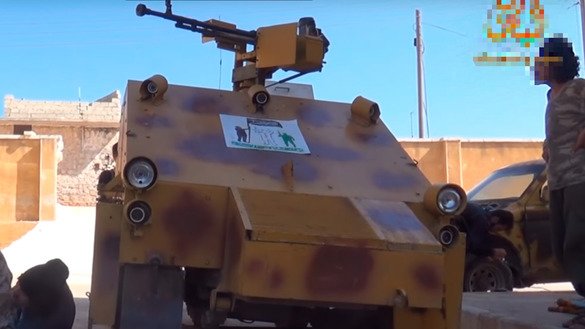 In March, Caravanserai reported that Uzbek insurgents fighting in northern Afghanistan had suffered heavy losses.
IBJ, which might number no more than 500 militants in Syria, has its hands full fighting simultaneously in Syria and Afghanistan, according to reports on various extremists' websites. Its size in Afghanistan is unknown.
Faced by rival insurgents and by determined government forces in both countries, it is floundering, Tashkent-based political scientist Umid Asatullayev told Caravanserai.
"When it was just starting out, [IBJ] billed itself as 'liberators' of Uzbekistan," Asatullayev told Caravanserai. "But that's not reality now. [IBJ] has been bogged down in Syria for years ... while in Afghanistan it does the Taliban's bidding."
Trouble brewing
Jurabayev, who fled Uzbekistan in 1998 as a wanted terrorist, had led IBJ since its founding in 2011. But discord within the organisation began brewing last July, when some of his own subordinates suspected him of betrayal of the organisation, espionage and murder.
Reports vary on whether he was killed April 27 or April 30 in Idlib Province, Syria.
IS--Khorasan Province, which has no patience for IBJ's affiliation with al-Qaeda and with the Taliban, said via the messaging app Telegram that it had killed Jurabayev for committing various betrayals, according to Radio Free Europe/Radio Liberty (RFE/RL)'s Uzbek service. Al-Qaeda described the killer as an infiltrator, according to Long War Journal.
IBJ members caught the assassin, named Jobir, when he was hiding among Uzbek and Tajik families in Idlib Province, according to Long War Journal and to an IBJ member who spoke to RFE/RL's Uzbek service. Neither his fate afterward nor his national/ethnic origins were reported.
Jurabayev's assassination by IS was no surprise, said Asatullayev the political scientist.
"[IBJ] openly opposes IS in both Syria and Afghanistan, because it swore allegiance to the Taliban," he continued. "Feuding between Uzbek extremists gives us hope they will destroy themselves."
A new leader amidst turmoil
IBJ's new commander is an ethnic Tajik named Abu Yusuf, according to RFE/RL's sources within IBJ. Last August, Caravanserai reported that he accused Jurabayev of betraying IBJ and of serving "infidels".
Back in Uzbekistan, authorities are taking a new tack and openly discussing the threat of radicalisation, as evidenced by a May 2 news conference held by Interior Minister Abdusalom Azizov.
"We see many cases where our citizens are tricked ... into going to Turkey and end up in Syria," said Azizov, according to Gazeta.uz.
"In previous years, officials mostly tried to stay mum about our citizens joining foreign extremist groups," Tashkent political scientist Valerii Khan told Caravanserai. "The more openly they talk about it .. the fewer points extremists will score."