BISHKEK -- A festival in Bishkek last week brought together hundreds of Muslims and other Bishkek residents as the holy month of Ramadan began.
The May 26 "Ramadan: a Holiday for the Soul" festival was meant to strengthen peace and security and to debunk extremism and terrorism, organisers said.
The Kyrgyz Muslim magazine Ummah and the local Muslim community organised the festival.
"We are confident that this event will counter extremism in Kyrgyzstan and help establish peace and harmony in society," Ummah editor-in-chief Eliana Maryam Satarova told Caravanserai. "We've seen from our efforts that Kyrgyz youth, especially the Muslims, need to be socially active. During the past year, women have been enthusiastically joining our work."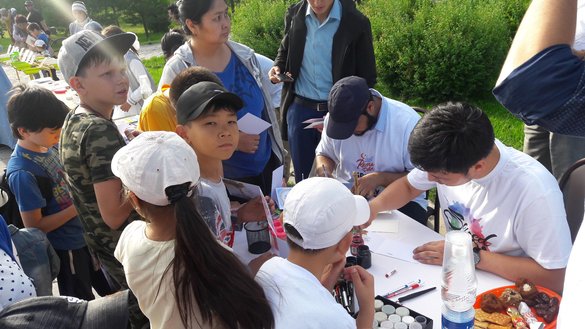 She called the festival a success, noting that Bishkek residents of various ethnic and religious backgrounds, including a large proportion of youth, attended the event.
During the festival, competitions, including quiz shows, for children and adults took place, and various entertainers performed.
Visitors enjoyed an exhibition of Muslim art and attended free workshops on designing postcards and learning Arabic script.
Bishkek resident Tamerlan Asanov dropped by the festival without planning to beforehand.
Admitting to mild stereotyping of Muslims before he attended the event, he told Caravanserai, "I was surprised how kind and open everybody here was ... The large number of Bishkek residents who showed up proved yet again that terrorists aren't Muslims. They're criminals."
Uniting against radicalisation
Such gatherings create a bridge for dialogue among members of various faiths and ethnic groups, said Satarova.
"We need to convey that Islam is a religion of peace and doesn't call for violence," she said. "We used to conduct these sort of events only in Bishkek, but we have now received offers from Kyrgyz youth to host these events in other parts of the country. We'll do it soon."
The festival was meant to foster "civic activity and unite all citizens ... to do good", Kadyr Malikov, director of the Bishkek-based think tank Religion, Law and Politics, told Caravanserai.
"We should all fight radicalism together," he told Caravanserai. "And events like this one, which include meetings and information sharing, need to be held more often. They'll ... foster tolerance."
"Muslim youth should step up to propagate a well-informed interpretation of Islam. This festival was needed like never before," Mars Ibrayev, rector (president) of the Islamic University of Kyrgyzstan, told Caravanserai. "It wasn't just Muslims who wanted to take part in this event but all residents of Bishkek. They asked Muslims at the festival questions about Islam, and they got answers."
Engaging youth
Altynbek Ismailov, who works at Malikov's Religion, Law and Politics think tank, said their organisation is reaching out to provincial youth to "encourage them to strive for a secular education".
"I see that young Muslims in rural areas and Bishkek are ... teaming up, hosting these sorts of events, making videos, and working in social networks," he told Caravanserai. "In general, youth are actively integrating [into society] and promoting the idea that Islam is a religion of peace."
"Our goal is to combat extremism by involving youth in these sorts of public events," Aikol Bolotbekova, a journalist for Ummah, told Caravanserai. "We believe that when youth feel part of society and feel capable of improving the situation ... they will never embrace extremist ideas because they'll consider this their country."