AKTOBE -- Kazakhstani officials are alarmed by the persistence of extremism nationwide and are discussing ways to break the circulation of extremist ideas.
"Some of the most important challenges our state and law enforcement agencies face today are preventing Kazakhstanis from becoming radicalised and preventing proponents of terrorism from joining IS ['Islamic State'] and other terrorist groups," Oleg Dorunov of Taraz, chairman of the anti-extremism NGO Harmony, told Caravanserai.
During the past few years, Kazakhstani law enforcement prevented more than 500 citizens from leaving the country to join insurgents, while hundreds of other Kazakhstanis are fighting in Syria and Iraq, Nurlan Nigmatulin, speaker of the lower house of parliament (Majlis), warned in Aktobe May 19, according to Diapazon.
"The number of radicals in Kazakhstan is not decreasing," Deputy General Prosecutor Marat Akhmetzhanov, who travelled with Nigmatulin to Aktobe, said there the same day, according to Ratel.kz.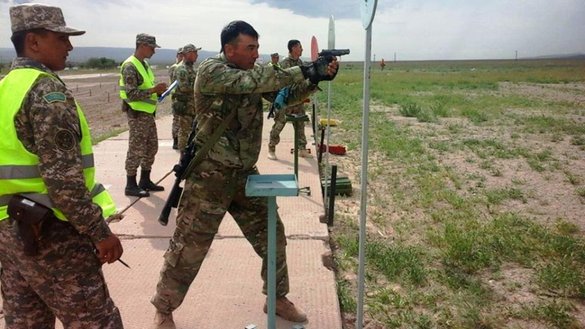 Signs of extremism continue to unsettle Kazakhstani society.
Last year, a deadly terrorist attack stunned residents of Aktobe.
Meanwhile, 240 Kazakhstani citizens fighting abroad have been placed on Interpol's wanted list, according to the Interior Ministry (MVD), Radio Free Europe/Radio Liberty's Kazakhstani service reported May 19.
"Only two outcomes await" Kazakhstani insurgents fighting abroad, said Dorunov: "either perishing in a foreign war or long prison terms ... in Kazakhstan [after extradition]."
Revising counter-terrorism laws
In Aktobe May 19, Nigmatulin described parliament's work to improve counter-terrorism laws and urged law enforcement to use new methods to fight extremism and terrorism.
Parliament May 24 approved the latest such initiative, a bill to deprive Kazakhstani terrorists of their citizenship, which President Nursultan Nazarbayev is expected to sign into law, a Janatas public defender, Aidos Otorbekov, told Caravanserai.
Taking away terrorists' citizenship has public support, said Otorbekov, adding that the measure does more than show that such offenders "do not deserve our citizenship ... If needed, they can be deported or denied entry."
This autumn, parliament will review suggestions from the executive branch on amending and expanding counter-terrorism laws, said Nigmatulin in Aktobe May 19, according to the parliamentary press office.
Kazakhstani extremists abroad
In February, Saudi Arabia extradited Abdukhalil Abdujabbarov, who has been accused of online promotion of extremist ideas for many years, to Kazakhstan.
On March 15, Afghanistan handed over another Kazakhstani citizen, Damir Znaliyev, to Kazakh officials. He had been internationally wanted since 2011 and will soon appear before a court.
Znaliyev joined Soldiers of the Caliphate (Jund al-Khilafa), which has committed several terrorist attacks in various countries, including two bombings in Atyrau in October 2011, according to the National Security Committee (KNB).
And in February 2013, Pakistan extradited a member of Soldiers of the Caliphate, Urynbasar Munatov, to Kazakhstan. He is serving a 20-year prison sentence.
The KNB is searching for another suspected Soldiers of the Caliphate member, whose name it has not disclosed. He is said to be fighting in Syria.
Yet another suspected Kazakhstani militant abroad, Rinat Khabidolla, is in the cross-hairs of Kazakhstani intelligence agencies, Astana political scientist Erlan Karin noted in his book "Soldiers of the Caliphate".
"The Soldiers of the Caliphate terrorist group is a striking example of how Kazakhstanis who fell prey to ... brainwashing conducted from abroad have ruined countless innocent lives and will face punishment for it," Taraz political scientist Ruslan Seksenbayev told Caravanserai.
Role of civil society
"Success in fighting terrorism and extremism to a large extent depends on the active involvement of members of civil society," Nigmatulin said, according to Zakon.kz.
Leila Baimanova, head of the Shymkent-based NGO Altyn Karlygash, agrees.
"NGOs and members of civil society can play a decisive role in preventing extremism but only in conjunction with state agencies and the involvement of competent theologians," Baimanova told Caravanserai.
During Nigmatulin's time in Aktobe, which included an out-of-town session of the lower parliamentary chamber's Committee on International Affairs, Defence and Security, participants commented on the positive track record of the Aktobe-based Ensuring Public Safety project, which they say could be extended to other regions.
As part of the project, which occurred in two stages in 2016, 145,000 residents of the province (a sixth of the population) received advice or aid from social workers, psychologists, lawyers, theologians, imams and police officers, said Nigmatulin, Zakon.kz reported May 19.
Such measures will reduce radicalisation and effectively fight extremism and terrorism, say observers.