ASTANA -- About 400 prisoners convicted of terrorism are serving time in Kazakhstani prisons, and there is an significant risk that they will sway other prisoners down the path of extremism, say informed observers.
"The spread of radical Islam in detention centres has become an acute problem in recent years," Azamat Shambilov, director of the Penal Reform International (PRI) Regional Office in Central Asia, told Caravanserai. "There is a fertile environment [in prisons] where adherents of violent extremism can recruit. That's why correctional facility staff absolutely need to have sufficient professional knowledge and specialised skills."
Shambilov's office, based in Astana, organised the National Forum on Preventing the Radicalisation of Prisoners and Countering Violent Extremism in Prisons in Kazakhstan May 30, also in Astana. The participants discussed extremism in Kazakhstan's prisons and prepared recommendations for prison employees.
Specialists from Great Britain and Jordan, officials from the Kazakhstani penal system committee and other state agencies, and members of international organisations took part in the forum.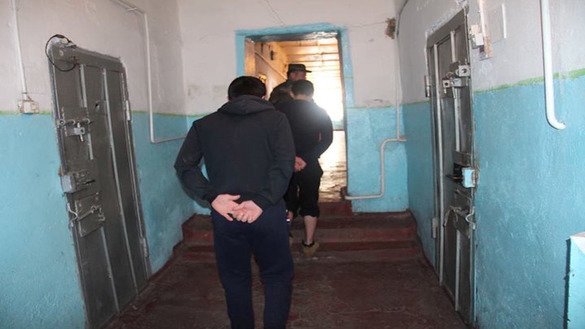 PRI is headquartered in London.
Recruiting in prisons
About 400 convicted extremists or terrorists are serving time in Kazakhstani prisons, said Shambilov.
Jailed extremists have opportunity to proselytise behind bars, where presently they are locked up alongside common criminals.
This situation requires immediate action, said Zhambyl Province theologian Sanjar Suleimenov.
"Because the prisons are overcrowded, convicted extremists and terrorists influence other inmates," he told Caravanserai. "It can happen both intentionally or spontaneously."
Specialists, the Spiritual Administration of Muslims [DUMK], and penal system should develop a programme to work with such convicts, he said.
"The Interior Ministry and penal system committee were advised to work with local and international NGOs, [DUMK] and law enforcement to draft and implement by-laws and rules for working with incarcerated extremists who have not renounced their radical views," Prof. Marat Kogamov of KAGZUU University in Astana, a legal specialist, told Caravanserai.
Analysts warn of more terrorism-related crimes
Statistics presented at the forum indicate that the fight against extremism in Kazakhstan is far from over.
Since the outbreak of the wars in Afghanistan, Syria and Iraq, 45 Kazakhstani citizens have been deported either from foreign terrorist training camps or from third countries meant to be way stations to war zones. Another 33 returned on their own, said Shambilov.
Of those 78 returnees, voluntary or not, "nearly three dozen have been prosecuted, " said Shambilov.
The number of extremism- and terrorism-related crimes is on the rise in the country, said the PRI in a statement about the forum. In 2014, 154 such crimes took place, compared to 317 in 2015 and 554 in 2016.
However, 2017 has one encouraging sign for Kazakhstan, said Shambilov, the PRI regional director.
"Between 2012 and 2016, the [annual] number of people who left the country to fight in wars increased fivefold [from 98 to 536], but not a single attempt to go to Syria has been recorded so far this year," added Shambilov.
"Between 2011 and 2016, the National Security Committee [KNB] prevented 559 Kazakhstanis from going to terrorist zones," he said.
"The southern and western regions of Kazakhstan are the most worrisome in terms of radicalisation," Shambilov told Caravanserai. "Recruiters, as a rule, target youth ages 14-29."
Improving laws
The country's sentencing policy plays a key role in the fight against terrorist and extremist crimes, Supreme Court judge Daulen Nuralin told the forum.
In November, the government plans to enact a regulation on sentencing convicted terrorists and extremists, he said.
"This is being done to ensure that we apply counter-terrorism laws correctly and uniformly," Nuralin told Caravanserai. "The 2013-2017 State Programme on Countering Religious Extremism and Terrorism is under way in Kazakhstan."
"We've amended the new criminal code to broaden the meaning of terms like 'act of terrorism' and 'extremism and terrorism financing' ... We made undergoing training in terrorist camps a crime."