SUGHD PROVINCE -- Co-ordination among law enforcement, jamoats (municipalities) and clergy will reduce radicalisation in Tajikistan, a judge in Jabbor Rasulov District told Caravanserai.
The effort comes after authorities deemed rural areas like Jabbor Rasulov District (population 133,000), Sughd Province, at high risk of radicalisation.
Out of 14 districts in Sughd, Jabbor Rasulov was one of six that law enforcement ranked as "high risk" in 2016, the district judge, Sodikboi Vakhkhobov, told Caravanserai. They took into account the number of residents fighting in Syria and the number of residents convicted of extremism.
That said, authorities have made progress in rolling back the problem in Jabbor Rasulov.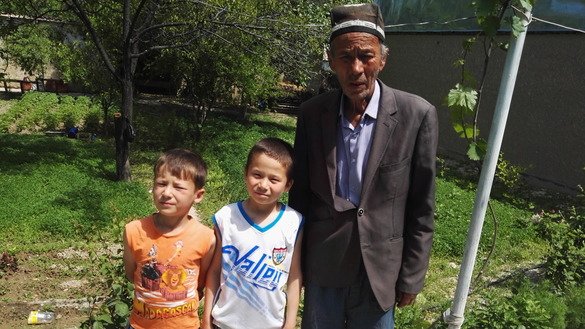 "During [the first] five months of 2017, [my] court reviewed only one criminal case of religious extremism. Another case is on the docket," Vakhkhobov said. "In 2016, there were seven such cases."
In 2016, 35 Jabbor Rasulov residents were convicted of participating in banned extremist groups like "Islamic State" (IS), he said.
Recruitment channels
Almost all militants from Gulakandoz Jamoat (population 43,000), which is part of Jabbor Rasulov, ended up in Syria via labour migration, Gulakandoz residents told Caravanserai.
"The cases resemble each other," Jamilya Boinazarova, deputy chairwoman of the jamoat government, told Caravanserai. "They attend a mosque, pray, have harmless-seeming conversations [with extremist recruiters] ... and then recruitment starts."
Text messages and pictures of IS militants were the undoing of Jabbor Rasulov resident Murojon Mirsaidov.
In April 2016, Tajik intelligence tapped a phone call between Murojon and his older brother Bobojon, who was fighting in Syria for IS.
Murojon heeded his brother's instructions and persuaded three other villagers to go to Syria.
However, the Tajik State Committee for National Security (GKNB) nabbed all four before they could leave the country.
All four men ended up receiving prison terms.
Dissuaded at the last minute
Another native of Jabbor Rasulov District, Zamira Khomidova, barely escaped a similar fate.
Khomidova found herself pregnant with a third child when her migrant worker husband, Nabijon Saidov, joined the insurgency in Syria.
Khomidova stayed in touch with Saidov and promised to wait for him to bring her to Syria.
Tajik security agencies became aware of her internet contacts and banned her from going abroad, and her parents eventually were able to steer her away from extremism.
After Khomidova learned her husband had been killed, she gave up the idea of going to Syria.
She works back in her hometown now, earning 20 TJS ($2) a day at a cafeteria. Khomidova escaped the horrors of Syria. Now, though, many locals point at her and she fears she will never find a job using her economics degree.
[Part II will follow on Wednesday]