TASHKENT -- Soon after the beginning of Ramadan, Muslim, Russian Orthodox and Catholic leaders gathered in Tashkent to call for friendship, tolerance and peace.
Thwarting any attempts to cause disruptions is key to preserving peace in Central Asia and Uzbekistan, the leaders announced at the beginning of the holy month.
Members of 16 different faiths live side by side in Uzbekistan.
"The speakers noted the need to ideologically resist expressions of religious extremism and intolerance and to foster a culture of tolerance among youth," according to a statement by the country's Committee on Religious Affairs.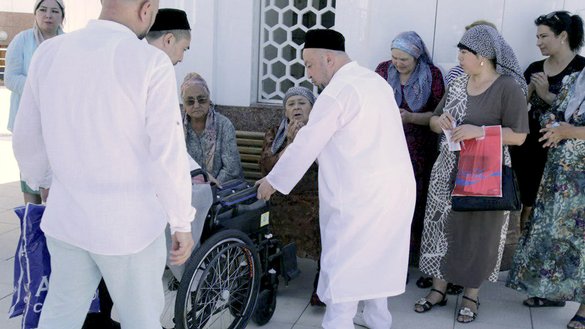 Spirit of generosity
As part of Ramadan, mosques nationwide are busy helping the less fortunate.
"In June, imams from Tashkent mosques spearheaded [an event where] Muslims visited recipients of the Veteran of Labour award and the elderly at nursing homes, as well as the handicapped and impoverished," Spiritual Administration of Muslims of Uzbekistan (DUMU) spokesman Khabibullo Kamalov told Caravanserai.
During Ramadan, mosques in Tashkent raised the money to buy 200 wheelchairs, he added.
"Many imams are striving to take personal initiative, appealing to potential donors, since the Koran says 'strive as in a race in good deeds''," he said.
Every mosque tries to provide assistance any way that it can, said Kamalov.
"For example, Kassablik Mosque in Jizzakh city obtained mutton to feed the local Society for the Blind, while the Tajiddin-oogly Abdulakhad-ata Mosque in Mirzachul District, Jizzakh Province, found sponsors to buy school supplies for indigent children," he said. "Jurabek Muradov, an imam-khatib from Gijduvan District, Bukhara Province, collected groceries for poor families. There's no end to these stories."
Raising money, making donations
"Ramadan is a time for everything virtuous in each individual's soul to blossom," Sanjar Razzakov, a spokesman for Tashkent Islamic University, told Caravanserai.
Muslims across the country are striving to fill the holy month of Ramadan with good deeds.
"I gave money to my mosque to help it conduct charitable events in a suitable way," Farkhod Vakhkhabov, a businessman from Tashkent, told Caravanserai. "Many of my business acquaintances did the same -- they give as much as they can."
"At the start of the month, I collected donations and gave them to the imam of my district's mosque," Tashkent resident Khikmat Magzumov told Caravanserai. "I do the same thing every year."
Some Muslims try to help the needy on their own, without going through the mosque, noted Magzumov.
"It doesn't matter to me if you fast or what religion you are," he said. "It's very important not to offend anyone but to help him or her tactfully."