BISHKEK -- Women, previously not considered a significant part of the Kyrgyz extremist population, are becoming a real threat, say authorities.
In recent years, women have been committing about 25% of extremist offences in Kyrgyzstan, according to the Interior Ministry (MVD). Initially, their role in such offences was negligible.
Kyrgyz women, particularly the devout, are in urgent need of outreach to teach them to distinguish extremism from Islam, Bishkek civic leader Toktayym Umetaliyeva told Caravanserai.
Extremist recruiters seek women in financial trouble, she said.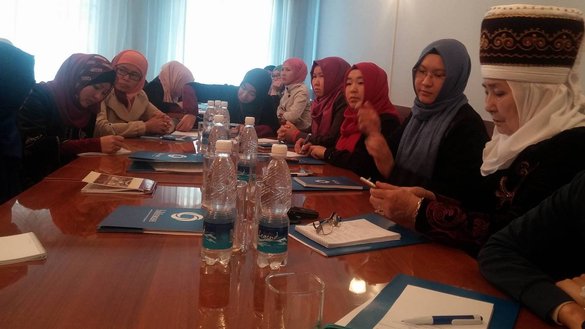 "Phony travel agencies find women and spirit them away with out even alerting their relatives," she said. "They [exploit] women who are heavily in debt."
"They promise to help [such] women but garnish" all the money that such women earn, added Umetaliyeva.
Another way to target women is to seek out the wives of prisoners, she said, adding that presently more than 1,700 young Kyrgyz Muslims are in prison for various offences.
Extremist recruiters try to lure the wives of convicted men "on the pretext of offering them [charitable] aid" and seek to radicalise the convicts too, she said.
Outreach programmes
One recommended method for thwarting radicalisation of women is to step up outreach.
The Bishkek-based NGO Iyman Foundation for the Development of Spiritual Culture is the first Kyrgyz NGO to conduct anti-extremism work with women.
Kyrgyz "women are responsible for raising children, so that 25% figure means entire families are involved", Iyman Foundation employee Janar Isakbayeva told Caravanserai. "When we work with women, we can safely expect our work to influence their families, especially ... children."
The Iyman Foundation is co-operating with the country's State Commission on Religious Affairs (GKDR) to solve the problem of potential radicalisation of women.
In April, the two bodies organised two-day-long seminars for women's leaders in Cholpon-Ata (in the north) and Jalal-Abad (in the south) that drew representatives of religious schools, foundations and charities. More than 60 women attended the seminars.
Each participant "is a leader in her community and makes an appreciable contribution to fighting extremist ideology in the provinces of Kyrgyzstan", added Isakbayeva.
During the seminars, GKDR officials explained the government's policy on religion.
Specialized planning
Women's leaders voiced many interesting suggestions in the seminars, said Bishkek-based Police Col. Emil Jeenbekov, one of the seminar speakers.
"We once again became convinced that women possess immense potential in this field," he said. "After analysing our results, we decided to ... implement joint programmes to provide women with a deep knowledge of religious relations and raise their potential for conflict prevention.
The seminars helped the women involved to come up with a specific plan for coming activities, said Amina Usenaliyeva of Cholpon-Ata, a seminar participant.
"We decided to head out to [remote] districts and villages to tell the public about how the ideology of extremism contradicts all Islamic canons," she told Caravanserai. "We also decided to establish a network of active Muslim women who will give advice on various issues in an Islamic context.
"In particular, we'll work with women in prison, single mothers and young women," she said. "We organised a co-ordinating council of six women."
The Iyman Foundation this autumn plans to begin organising more seminars for larger groups of women, said Isakbayeva.