FERGANA, Uzbekistan -- The Uzbekistani government is working on a strategy to raise living standards in the Fergana Valley and to bring citizens turned insurgents abroad ("those who've lost their way") back to Uzbekistan for a normal, peaceful life, say authorities.
The effort comes with hundreds of Uzbekistani citizens said to be fighting as insurgents in Syria, the Afghan-Pakistani border zone and Iraq.
The fertile valley, shared by Uzbekistan, Kyrgyzstan and Tajikistan, contains three Uzbekistani provinces (Namangan, Fergana and Andijan) and 9.1 million Uzbekistanis, according to Tashkent.
Those 9.1 million comprise 28% of the country's population.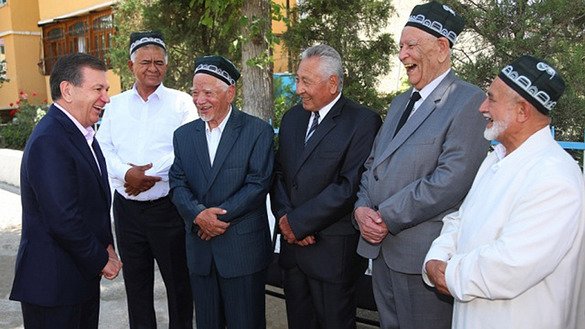 The population, which trends conservative, has seen more turbulence than any other part of Uzbekistan, Tashkent political scientist Valerii Khan told Caravanserai.
"Tragic ethnic conflicts took place here in the late 1980s and early 1990s," he said. "All the Uzbekistani extremist groups, including the IMU [Islamic Movement of Uzbekistan] ... sprang up here."
President Shavkat Mirziyoyev visited Andijan Province in early June to support economic development and announce a new policy against extremists.
"Among us are those who have ... fallen prey to the influence of foreign [extremist] ideas and left the country in pursuit of something," he said in Andijan June 2, according to the TV channel Uzbekistan. "Our primary goal is to bring them back. [We can] prove that the state cares about every citizen, that life changes, and that we are creating [favourable] conditions."
Job creation and better living standards
Another way to defuse potential extremism is to address any economic shortcomings in the valley.
The government is carrying out a number of development projects meant to create about 13,250 jobs, Economy Ministry spokesman Zafar Rakhmov told Caravanserai.
They include 19 projects in light industry that are expected to generate about 10,000 jobs by 2018, he added.
Workers are busy constructing 37 apartment buildings in Andijan city. This year, 294 apartments will become available in the city for young families who need housing, said Rakhimov.
Fighting growing threat of extremism in the region
Although the situation in the Fergana Valley is peaceful, periodically extremism surfaces.
"On June 8, Azizbek Abdunazarov, a resident of Fergana Province, was sentenced to six years in prison," Arif Atajanov, a spokesman for the General Prosecutor's Office, told Caravanserai. "He used the Odnoklassniki social network to share extremist sermons and discussed ways to organise 'jihad' in Uzbekistan."
During a conference in Ashgabat with Central Asian officials June 13, UN Secretary-General António Guterres warned of a growing regional threat of extremism and terrorism.
Extremist groups are recruiting new militants from Central Asia, he said at the conference, according to the UN News Service.
Taking away citizenship for terrorism, extremism
If building prosperity in the Fergana Valley is the "carrot" of anti-extremism strategy, taking away Uzbekistani citizenship might be the "stick".
The authorities have no intention of forgiving extremist leaders or radical supporters of terrorist movements, Mirziyoyev told an audience in Andijan June 3. During that session with Andijan provincial government officials, he urged them to help repatriate citizens "who've lost their way" but not fervent extremists, reported Radio Free Europe/Radio Liberty (RFE/RL)'s Uzbek service.
"They need to be stripped of their Uzbekistani citizenship," he said of irredeemable extremists, adding, "I'm prepared to do that."
He urged imams and officials to identify extremists who deserve to lose citizenship.
"Uzbekistan has a legal mechanism to deprive terrorists and extremists of their citizenship, so the president's threats could become a reality for some," Muslima Khakimova, a lawyer from Tashkent, told Caravanserai.
The president decides who loses citizenship, she said, adding, "Citizenship can be lost if the citizen materially harmed the interests of society and the state by committing crimes against peace and security."