DUSHANBE -- The United States' largest annual exercise with Central Asian forces is coming to Tajikistan in July.
Forces from US Central Command (CENTCOM), along with troops from Pakistan, Tajikistan, Kyrgyzstan and Mongolia and observers from Kazakhstan, will participate July 10-23 in Dushanbe and near Fakhrabad, Jeffrey Ridenour, a spokesman at the US embassy in Dushanbe, told Caravanserai.
Exercise Regional Co-operation 2017 will be focused on fighting terrorism, ensuring border security and practicing military operations to restore stability, said Ridenour.
"The exercises encourage co-operation and teamwork, create functional capabilities, support operations to provide stability and boost the operational efficiency of multilateral organisations," he said.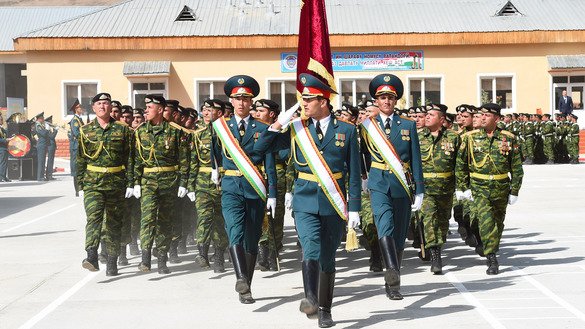 Exercise Regional Co-operation is highly important for all forces involved, said Artur Medetbekov, former deputy chairman of the Kyrgyz State National Security Committee (GKNB).
"Having CENTCOM [help conduct] international counter-terrorism exercises in Tajikistan, especially in the Tajik-Afghan border zone, speaks to the seriousness and high level of the exercises," he said.
"This is a unique opportunity for Kyrgyzstan to test its combat and tactical capabilities," he said.
From March 27-April 7, Tajikistan hosted joint exercises with the US.
An annual tradition in military co-operation
Regional Co-operation has taken place every year since 2001. It occurred last year in Massachusetts.
This year's drills will include 49 Tajiks, 15 Kyrgyz, 16 Mongolians, 16 Pakistanis and 175 Americans. Kazakhstan is sending two observers.
The Tajik Defence Ministry is responsible for hosting the exercise.
"These are international-scale exercises, and they are very important for us," an anonymous source at the ministry told Caravanserai. "We are making every effort for everything to work out on a high level."
Some command-post exercises will take place at a hotel in Dushanbe, while US-Tajik field exercises are scheduled for July 17-21 near Fakhrabad.
The forces involved will conduct tactical operations under realistic conditions and will follow a pre-arranged scenario, said Ridenour.
That scenario encompasses "hypothetical peace-keeping in response to a UN mandate", he said.
Such training "enables us to develop mechanisms and react to threats in the fight against terrorism and in the spread of drugs or weapons of mass destruction", said the anonymous Defence Ministry source.
Strengthening regional security, co-operation
The exercises will help strengthen security and stability in the region, say analysts and officials.
"These exercises are an unprecedented opportunity for the US to strengthen relations with its partners from Central and South Asia," said Ridenour.
Regional Co-operation is building co-ordinated action and is helping to collectively repel threats, said the Defence Ministry source.
"The exercises will help raise the level of co-operation, strengthen mutual potential and develop long-term regional stability in joint operations between the ... US and Tajikistan," added the source. "The United States and Tajikistan have been co-operating for 25 years."
Teaming up to provide peace and stability
The US is one of Tajikistan's key partners and has an interest in maintaining Central Asian stability and fighting terrorism, said Saifullo Safarov, deputy chairman of the Dushanbe-based Strategic Research Centre under the President of Tajikistan.
"Extremism and terrorism have no borders," he told Caravanserai. "That's not a problem of Tajikistan or Central Asia alone. That's why we should all work together -- jointly. Regional co-operation will help all countries to quickly react to all events and threats."
Partnering with the US and countries in the region is essential for Tajikistan, Abdumalik Kadyrov, a Dushanbe-based security analyst, told Caravanserai.
Doing so "will develop the army and special forces and teach them to co-operate with their counterpart forces from other countries", he said. "Second, regional co-operation could become a platform for strengthening Tajikistan's ties with the global community."
"Choosing Tajikistan to host the exercises wasn't random," Amanjol Urazbayev, chairman of the NGO Counter-Terrorism Committee of Kazakhstan, told Caravanserai. "It has about 1,500km of border with troubled Afghanistan ... Tajikistan stands on the front line for the whole region."
[Alexander Bogatik of Kazakhstan and Asker Sultanov of Kyrgyzstan contributed to this story.]