TASHKENT -- Uzbekistan is implementing a new religious policy this year meant to establish a dialogue with various faiths on fighting extremism, say observers.
The policy is especially meant for followers of Islam, the country's leading faith, Tashkent political scientist Umid Asatullayev told Caravanserai.
That policy, which includes liberalisation in religion, "is very important for the fight against radicalisation," Asatullayev told Caravanserai. "Religious freedom enables believers to feel they are part of society and the state."
Uzbekistani authorities and ordinary citizens are concerned about their compatriots accused of terrorist attacks in countries like Turkey (in June 2016 and January) and Sweden (in April).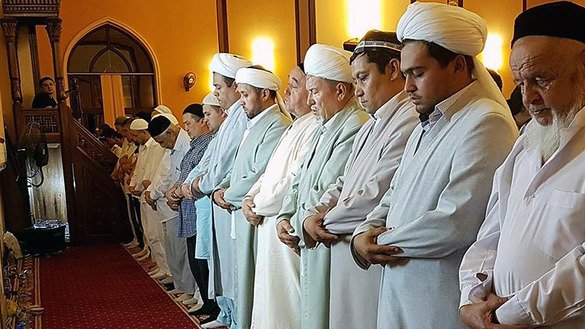 Hundreds of others have joined insurgents in Syria, Afghanistan and Iraq.
"They are not worthy of being called Uzbeks," President Shavkat Mirziyoyev said of nominally Muslim ethnic Uzbeks who commit terrorism, according to Podrobno.uz. He gave his remarks at a June 15 conference in Tashkent dedicated to social stability and to the preservation of the true essence of Islam. Imams from around the country watched the conference live online.
Authorities are working hard to protect Uzbekistani youth studying or working abroad from being lured into terrorist networks, he said.
Uzbekistanis join government in CT efforts
Like the government, the general public is paying attention to compatriots who have "lost their way".
On June 18, Uzbekistani singer Kilichbek Madaliyev posted a video for a new song, Uzbek Emas (Not an Uzbek), in which he shamed ethnic Uzbeks turned terrorists.
''This is the first musical composition in the history of Uzbekistan that directly addresses Uzbekistanis who joined extremists abroad," Tashkent musician Khikmat Rustamov told Caravanserai.
The video illustrates the aftermath of various terrorist attacks, while the song denounces ethnic Uzbek terrorists.
"Whoever has blood on his hands is not an Uzbek ... Those who betray their homeland and become terrorists do not have the right to be called Uzbeks," according to the song's lyrics.
Returning former extremists to normal life
Uzbekistani authorities, as part of their security strategy, plan to re-integrate into society Muslims who were at some point suspected of extremism, as well as the families of convicted extremists.
During the June 15 conference, which more than 10,000 religious figures from across Uzbekistan attended in person or online, Mirziyoyev urged imams to begin rehabilitating those two groups, Radio Free Europe/Radio Liberty (RFE/RL)'s Uzbek service reported June 16, quoting sources among Andijan Province clergy.
"You must talk to everyone [in those two groups]," he said. "Visit them [children of convicted extremists] ... become involved in their upbringing. Help them enrol in schools."
Mirziyoyev reportedly told imams to report about their work at the end of the year.
Such work already began in June 19 in Andijan Province, RFE/RL reported, adding that groups of government officials, law enforcement and clergy are talking with former extremists and their families in an effort to help them find their place in society.