KHUJAND, Tajikistan -- A recent event in Khujand showed the promise of increased trade between Tajikistan and other countries.
The Sughd-2017 -- Valley of Possibilities trade fair, which took place in Khujand June 16-17, drew more than 240 guests from Tajikistan and seven other countries. Sixty-eight guests, the largest delegation, came from Uzbekistan.
"Trade fairs are a form of economic co-operation," Rakhim Sharifzoda, chairman of the lower chamber of parliament's economics and finance committee, told Caravanserai. "The benefits enable to us keep raising the standard of living and reduce social unrest."
"Our foremost task is to position Sughd Province as a favourable region for economic co-operation," Anvar Yakubi, deputy chairman of the provincial government, said during a Khujand news conference June 17 that Caravanserai attended.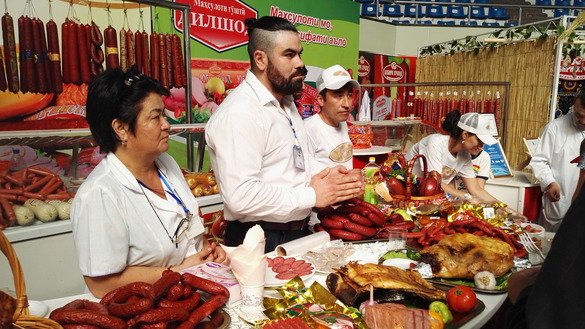 "We need partners to exploit export opportunities ... and to encourage investment," said Yakubi. "We want to fulfill these goals by organising fairs."
In April, Uzbekistan conducted a successful trade fair in Dushanbe, Tajikistan, to showcase Uzbekistani manufactured goods.
Outside firms court Tajik firms
Interest in co-operation with Tajik firms is growing, say observers who attended the fair.
At the Khujand fair, companies from Uzbekistan, Belarus and Poland all had exhibits, according to the Sughd Province Chamber of Commerce and Industry.
"During last year's fair, officials signed 28 documents [on co-operation]," Gairat Kobilov, deputy general director of the chamber, told Caravanserai. "This year, officials signed more than 100 agreements and protocols on co-operation."
Foreign embassies and international organisations are hoping to find partners for Tajik companies.
"Today's Tajik farmers need investments, and Tajik interest rates [for loans] can exceed 40% per year," Polish diplomat Jacek Michalski told Caravanserai. "We will help establish contacts [with Polish firms]."
"We're considering strengthening contacts with several provinces in Belarus ... and finding partner companies in Poland and Germany," said Yakubi.
Looking to Uzbekistan
Another possibility is partnering with neighbours like Uzbekistan, which sent the biggest delegation to the fair.
Uzbekistani participants concluded 73 agreements worth $2.5 million (22 million TJS) with their Tajik colleagues, according to the Sughd Province Chamber of Commerce and Industry.
The Uzbekistani participants, who were making their first appearance at the annual event, "displayed textiles and chemical products", said Kobilov.
The countries are seeking to build up their relations in general and trade in particular after years of difficult relations.
In the first five months of 2017, Tajikistan and Uzbekistan had trade of almost $70 million (616.9 million TJS), according to the Tajik government.
"The last time I came to Khujand was 1998," Alisher Khaidarov, an Uzbekistani businessman, told Caravanserai. "If we establish co-operation, we could develop together for the good of both peoples."
As businesses on both sides look forward to more Tajik-Uzbekistani trade, they are urging the removal of mutual visa requirements that have existed since 2000 and that impede travel and business deals.
"It would be good for business to eliminate or at least relax visa requirements," Dodokhon Ochilov, general director of the Khujand door-manufacturing firm KEDR, told Caravanserai.