TASHKENT -- A number of Uzbekistani initiatives aimed at helping Afghanistan highlight the "special emphasis" that Tashkent has placed on its southern neighbour.
The Uzbekistani government was expected to enact a resolution this week on "diversifying routes [passing through Uzbekistan] for carrying international cargo".
To facilitate the transit of cargo through Uzbekistan, Tashkent foresees building a highway, railway, and power line in northern Afghanistan, Nurali Kuziyev, a spokesman for the Ministry of Foreign Economic Relations, Investments and Trade, told Caravanserai.
Uzbekistan at the beginning of this decade built Afghanistan's only long-distance common-carrier railway, extending from Hairatan to Mazar-e-Sharif.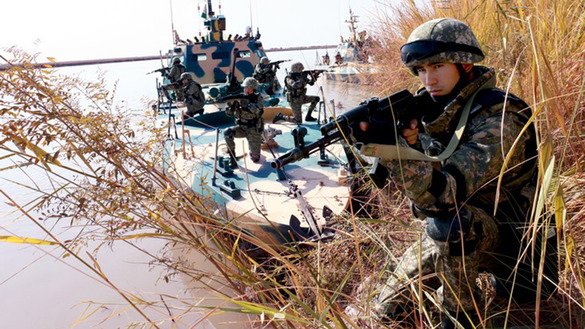 "Uzbekistan Railways is completely prepared to implement yet another project in northern Afghanistan," Oibek Mamadaliyev, a spokesman for the railway, told Caravanserai. "The Hairatan-to-Mazar-e-Sharif railway that we built [which opened in 2011] is consistently performing its role. In a secure environment, we can build the [projected Mazar-i-Sharif-to-Herat] railway very quickly. But ... the governments have to sign the relevant agreements first."
"Afghanistan is a promising market for Uzbekistani entrepreneurs because international brands have little presence there," Tashkent economist Shukurullo Mavlonov told Caravanserai. "Afghanistan has pospects for Uzbekistani manufacturers of household appliances and automobiles and especially for [exporters of] agricultural products."
The safer Afghanistan becomes, the more Uzbekistan can trade with it, he added.
Uzbekistan will be actively involved in efforts to solve the Afghan crisis, said Rakhmatulla Nazarov, director of the Foreign Ministry's office for co-operation with CIS countries, during a June 21 session of the International Press Club in Tashkent, reported Podrobno.uz.
"Only by involving Afghanistan in economic projects can we solve the problem it is facing today," said Nazarov. "We urge the international community to steer to the UN's auspices all economic aid to the people of Afghanistan."
In January, Uzbekistani business leaders signed agreements in Kabul to supply Afghanistan with more than $49.3 million (193.7 billion UZS) in goods. Officials from both countries hope to triple their annual bilateral trade soon to $1.5 billion (5.9 trillion UZS).
'Special emphasis'
"[Uzbekistani President] Shavkat Mirziyoyev is placing special emphasis on relations with Afghanistan," Senate Deputy Chairman Sadyk Safayev, who served as special representative for Afghanistan in 1996-2001, said during the same International Press Club session, reported Novosti Uzbekistana (News of Uzbekistan).
Mirziyoyev's decision to appoint a special envoy who will serve as an intermediary between him and Afghan President Ashraf Ghani "is yet another sign of the attention" he is giving to relations with Kabul, added Safayev.
That new envoy, Ismatulla Irgashev, led the Uzbekistani delegation to the June 6 Kabul Process Conference, which "delegations from more than 20 countries" attended, as the Uzbekistani Foreign Ministry said in a statement.
Topics at the Kabul forum included "security and the threat of terrorism in Afghanistan", added the ministry.