DUSHANBE -- Troops from various countries are learning to work together as they carry out Exercise Regional Co-operation 2017.
The drills encourage co-operation and teamwork, build functional capabilities, support security operations and increase the responsiveness of multinational organisations, say military observers.
Troops from the United States, Pakistan, Tajikistan, Kyrgyzstan and Mongolia, as well as observers from Kazakhstan, began the exercises in Dushanbe July 10. They end July 23.
The focus is on raising their ability to fight terrorism, guard borders and conduct operations to restore stability.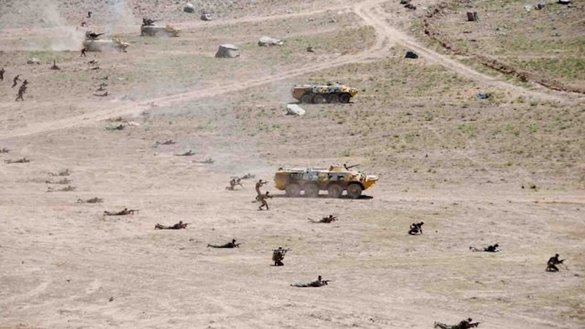 Tajikistan's Defence Ministry is organising the event.
These exercises open up new opportunities for Tajikistan, said member of parliament and Democratic Party leader Saidjafar Ismonov.
"Exercises of this kind are a unique opportunity for soldiers to gain new knowledge and practical skills," he told Caravanserai. "This is crucial for our soldiers, especially in responding to terror threats. Moreover, it strengthens regional co-operation. Our partnership with the US is becoming stronger, and it brings our countries together."
Consolidating forces
The training includes US-Tajik exercises July 17-21 near the Fakhrabad training ground, according to a Defence Ministry statement. The troops will undertake a simulated peacekeeping response to a UN mandate.
During those exercises, troops will use small arms and Tajik helicopters.
Journalists will be allowed to observe the command post (theoretical) exercise scheduled for July 19 in Dushanbe, according to Faridun Makhmadalizoda, spokesman for the Tajik Defence Ministry.
"Representatives of the Defence Ministry ... welcome the joint exercises," he told Caravanserai. "Practical and theoretical exercises with colleagues from neighbouring countries enable us to exchange experiences and gain highly valuable ... knowledge in counter-terrorism operations."
Establishing strategic ties
Having reliable international partners is crucial to ensure Tajik peace and stability, say officials and specialists.
"There is a real threat to Tajikistan and Central Asia ... stemming from Afghanistan," Ismonov said. "That threat will remain as long as the Taliban, IS ['Islamic State'], and other terrorist groups are present in our neighbour."
International exercises are essential for Tajik security, said Dushanbe political scientist Ravshan Abdullayev.
"It is especially important when Tajik soldiers can participate in ... international exercises as equals," he told Caravanserai. "It's an attempt to familiarise and bring together soldiers from countries in the region and to start building strategic ... relationships."
Tajikistan, as a small country, could benefit in the future from maintaining such contacts, he said.
"The US is a reliable partner and has something to teach us, especially in the military field," he said. "The more contacts and opportunities we have for co-operation, the better."
Exercises enable the Tajik military to identify shortcomings, said Rakhmatullo Zoirov, chairman of the Social Democratic Party.
"Participating in various types of military exercises is a sound idea and worthwhile for the country," he told Caravanserai. "It's in line with Tajikistan's choice to have an open-door policy."
Tajiks support the exercises
"I'm inspired that counter-terrorism exercises are taking place in our country," Shoira Nabiyeva, 35, of Dushanbe told Caravanserai. "They strengthen our armed forces and develop co-operation with the US and nearby countries ..our army should be prepared for any attacks."
The exercises are essential for Tajikistan because it borders Afghanistan, said Shodi Obidov, 40, of Dushanbe.
"Every day we hear the most terrible news out of Afghanistan," he told Caravanserai. "They're now saying that IS has moved into Afghanistan ... As a result, we always need to be on guard and protect our borders."