TASHKENT -- Uzbekistan and Tajikistan are growing closer after years of testy relations.
In past years, their relationship was characterised by feuds over border demarcation, Tajik hydro-power projects and transit rights for international freight trains.
This year, though, with Uzbekistani President Shavkat Mirziyoyev determined to repair relations with his country's neighbours, the two countries' businesses and government officials are reaching out to each other.
Possibly in the offing is an end to or simplification of the mutual visa requirements that have dogged both countries' travellers since 2000.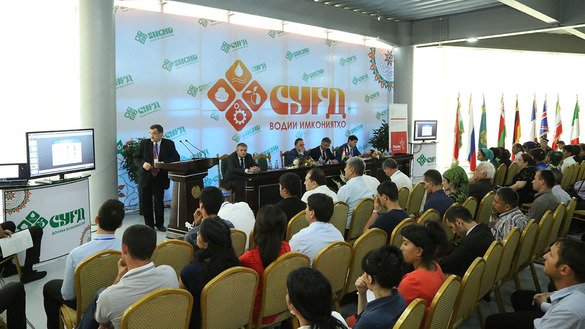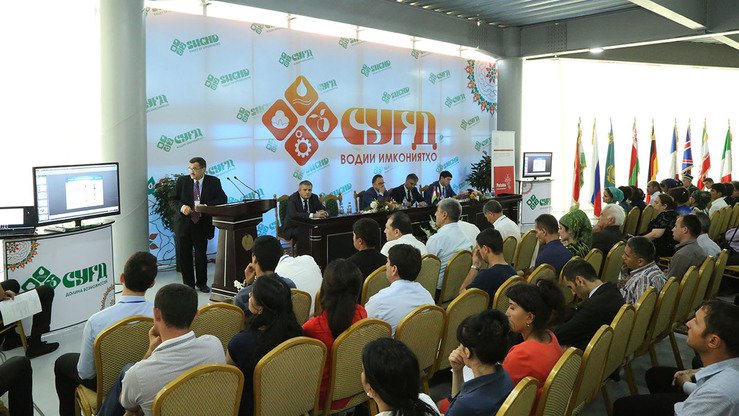 Relations 'surging forward'
Signs of progress extend to government-to-government ties. On June 28, Uzbekistani Interior Minister Abdusalom Azizov became the first person in his position to visit Tajikistan in 20 years.
Topics of his discussions with Tajik counterpart Ramazon Rakhimzoda included the joint fight against extremism, terrorism and drug trafficking, according to the Uzbekistani Interior Ministry (MVD) press office.
"It was impossible to imagine anything like this even one year ago," Tashkent-based political scientist Valerii Khan told Caravanserai of the thaw.
"During the past nine months, relations between Uzbekistan and Tajikistan have truly surged forward," he said. "Nonstop flights between Tashkent and Dushanbe have resumed ... Past quarrels over water resources are now completely absent from the local media."
Another high-level visit took place June 20, when Uzbekistani Deputy Prime Minister Ulugbek Rozukulov led a delegation to Dushanbe.
"The goal of the visit was to discuss practical issues that have arisen concerning trade, the economy and investments," Uzbekistani Foreign Ministry spokeswoman Farida Umarova told Caravanserai.
The countries' trade in 2016 grew to $69.2 million (275 billion UZS), a 5.7-fold increase from 2015, Rozukulov and Tajik counterpart Davlatali Said noted during their June 20 meeting.
The growth in trade occurred because of [presidential] summits and exhibitions and business forums for Tajik and Uzbekistani entrepreneurs, said Said, according to Radio Free Europe/Radio Liberty (RFE/RL)'s Tajik service.
Two noteworthy trade fairs took place in Tajikistan this year -- one in Dushanbe in April and one in Khujand in June. Uzbekistani firms conducted the first trade fair and featured prominently in the second.
Among many results of the Khujand fair, known as Sughd-2017, Uzbekistani business leaders agreed to open an Uzbekistan Shopping Centre in Khujand, according to the Tajik Chamber of Commerce and Industry.
They also reached deals with Tajik counterparts "worth $2.5 million [9.9 billion UZS]", said Anvar Yakubi, deputy chairman of the Sughd provincial government, according to AsiaPlus.
Easing travel a priority
When asked about barriers to further co-operation, business leaders in both countries cite two problems: the mutual visa requirement for visiting each other's country and the high airfare for nonstop flights between their capitals.
During the Rozukulov-Said dialogue in Dushanbe, business leaders suggested eliminating or simplifying the visa system and increasing the number of border crossings, according to AsiaPlus.
Observers who want visa reform or elimination include Nodir Tukhtayev, a Tashkent textile manufacturer.
"I don't see great prospects in the Tajik market because of the difficulty of getting a visa," he told Caravanserai. "It's much easier for me to go sell my goods in Kazakhstan, where I don't need a visa."
Presently, Uzbekistanis planning a trip to Tajikistan have to spend $50 (200,000 UZS) for a one-month visa and $100 (400,000 UZS) for a six-month visa.
They also face a steep airfare, unless they drive 300km through hazardous mountain passes.
The round-trip between Tashkent and Dushanbe, on the only carrier (Uzbekistan Airways) offering that service, costs 1,505,000 UZS ($377).
No passenger train service is available between the two countries.
"That's a lot for a business trip, especially if you need to go often," said Tokhtayev.
An unpublished air travel agreement between Uzbekistan and Tajikistan might hold out relief for travellers, if it takes effect.
The pact has been signed but has yet to take effect, RFE/RL's Tajik service reported July 1. If enacted, it would enable Tajik airlines to fly to Uzbekistan and would establish air cargo service between the two countries.