TASHKENT -- Various economic reforms coming in Uzbekistan could mean a freer economy, greater prosperity and more investment, say economists.
Since taking office last year, President Shavkat Mirziyoyev has conducted reforms in various directions, such as repairing relations with neighbouring countries and now tackling some economic problems that have hindered growth and complicated citizens' lives.
In an early step that might portend more changes to come, Uzbekistani businesses specialising in technology imports June 30 gained the right to buy hard currency in banks at the much more favourable black-market rate.
That rate gives them more than double the hard currency available at the state-imposed official rate.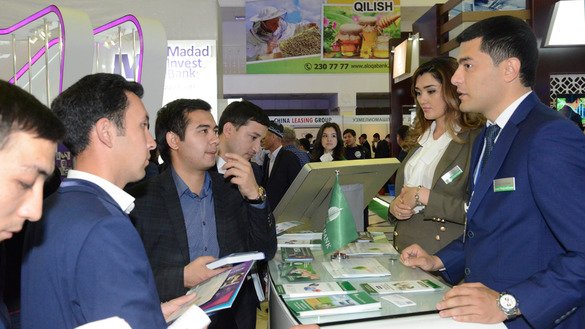 The general public, however, is still awaiting similar reforms to affect them.
"Starting the free exchange of currency will transform the country," Sherzod Annazarov, an entrepreneur from Tashkent, told Caravanserai. "Many entrepreneurs can finally come out of the shadows. But the main thing is that foreign investors -- large companies -- will come to us."
Currency restrictions
"In Uzbekistan, it has not been possible to freely exchange currency since 2006," Shukurullo Mavlonov, a Tashkent economist, told Caravanserai. "This measure was adopted to fight inflation, but it ... illustrates the state of the economy."
Uzbekistani citizens unwilling to buy hard currency -- dollars, euros, etc. -- on the black market experience various hardships and inconveniences stemming from official policies.
Under the law, ordinary citizens simply may not own foreign currency in cash form. They may have foreign currency loaded onto plastic ATM-like cards but only at the unfavourable state-imposed official rate (3,986 UZS per $1 as of July 9) and subject to high service charges from their banks.
They also have to wait months for that hard currency to be loaded onto their cards and may obtain only $2,000 (about 8.1 million UZS at the official rate) in hard currency -- much lower in practice -- per year.
"I don't have any realistic, legal way to exchange soms for any foreign currency in Uzbekistan," Tashkent resident Ruslan Salimov told Caravanserai. "I have to go to the black market ... even though it's illegal. The rate there is $1 for 8,500 UZS."
Businesses trying to import goods face severe problems if they cannot freely exchange currency.
"All the entrepreneurs I know obtain [hard currency] on the black market to buy goods," said Annazarov the entrepreneur.
Aiding banks
The government recognises the need to shore up commercial banks if the day comes that all citizens may freely buy hard currency -- meaning that banks had better have the cash on hand.
The government plans soon to infuse $500 million (1.9 trillion UZS) in commercial banks, according to a June 16 presidential resolution. In addition, under the same resolution, the Central Bank will aid cash-short banks by extending them unsecured loans for three months.
"It's obvious that the authorities are preparing for a surge of pent-up demand for hard currency if they permit free circulation of currency," said Mavlonov the economist. "It's essential for banks to be able to meet that [demand]."
Meanwhile, Mirziyoyev is making clear that his patience with the current situation has limits. On July 4, speaking at a Tashkent conference, he expressed dissatisfaction with "superficial banking and financial reforms", according to his press office.