ASTANA -- An energy-themed world's fair in Astana is attracting tens of thousands of visitors every day and promoting Kazakhstan worldwide.
EXPO-2017, which puts the spotlight on "Energy of the Future", has been attracting crowds and media coverage daily since it opened June 10. The fair ends September 10.
On Monday (July 24), the fair hit a landmark by registering its 1.5-millionth visitor, EXPO-2017's press office said in a statement.
During the week of July 17-23, EXPO-2017 attracted 285,300 visitors. Organisers are expecting to break the 2-million total by closing day, September 10.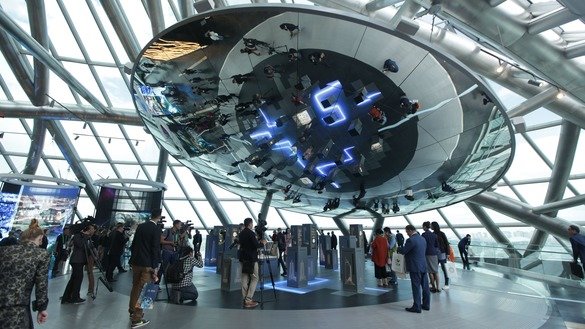 Those numbers might reflect the massive effort that Kazakhstan made to promote the fair.
"We spent more than 500 billion KZT [$1.5 billion] to ... hold this exhibition, which is huge money for our country," Vyacheslav Rukanov, Astana-based civic activist and environmentalist, told Caravanserai.
Increasing number of visitors and international media coverage will help to "improve Kazakhstan's image and subsequent prospects for investment", he said.
International achievements, local research
EXPO-2017 is highlighting "alternatives to conventional energy sources -- solar, wind and hydro," Rukanov said.
More than 100 countries are presenting their latest work with green energy. Fifteen companies are showcasing Israel's know-how in solar energy.
"Israel has many hi-tech achievements," Elazar Cohen, commissioner of the Israeli pavilion at EXPO-2017, told Caravanserai. "Just recently we were experiencing a shortage of electricity [in Israel], but now we have unique developments in alternative energy that we are presenting."
Israel is "presenting technologies that could be used in joint Kazakhstani-Israeli projects", he said.
Today's world should be turning away from finite fossil fuels, said Danya Golan, marketing director for the Israeli firm SolarEdge.
"Just one hour of solar energy, if used properly, could meet all of humanity's requirements for a year," she told Caravanserai.
At the exhibition, Kazakhstan is also demonstrating its best energy research projects.
"The projects are presented at the exhibition in the form of interactive models with multi-media content," Aynur Sospanova, director of the Department of Renewable Energy at the Ministry of Energy, told Caravanserai.
For both scientists and laypersons, the most interesting Kazakhstani exhibit was a model of the Tokamak research reactor in Kurchatov, which is scheduled to go online at the end of 2017, she said.
Visitors and potential investors also are fascinated by an inter-active map of Kazakhstan that shows green energy projects implemented nationwide, added Sospanova.
National pride
Kazakhstani exhibit-goers were impressed by what they saw.
"The exhibition's scale and the grandeur of the pavilions and exhibits are staggering," Bolat Nurmatov of Taraz, who came to the exhibition with his family, told Caravanserai. "Many countries are presenting their scientific achievements ... it is interesting for everyone, even for children."
"This is a fabulous, large-scale exhibition that is impossible to cover in one whole day, and has unbelievably interesting performances by entertainers," Jamilya Kerimova, 24, of Astana, told Caravanserai. "The overall atmosphere at EXPO is that of a holiday and striving for a future that has a place for new energy that doesn't pollute the atmosphere or ever run out."
Olga Kuravleva and Andrei Kuravlev, a couple from Shymkent, journeyed to Astana to take in EXPO-2017.
"I feel pride for our country!" said Kuravleva. "We're in step with the times ... Kazakhstan is striving to become a democratic, civilised country, and that is very heartening."