BISHKEK -- Analysts are urging the Kyrgyz government to increase its monitoring of extremist groups and to improve its methods for identifying them.
Toktayym Umetaliyeva, leader of the Zhashasyn Kyrgyzstan (Long Live Kyrgyzstan) party, shared her concerns over the number of radical groups operating in Kyrgyzstan and the distribution of extremist literature nationwide.
"We have no .. institution to keep watch effectively on all of this," she told Caravanserai. "We have no effective laws to identify underground movements."
"Many Kyrgyz youth retreat into these movements either to protest or to seek personal knowledge. We have no strong instrument for identifying underground radical movements," she said.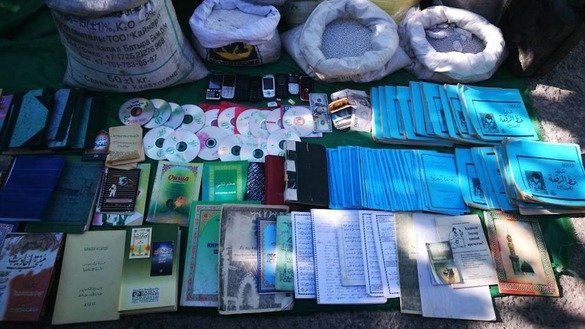 'Wolves in sheep's clothing'
Some individuals are openly propagating the most extreme versions of Islam in Kyrgyzstan, said Talai Jumadylov, a Bishkek-based former intelligence agency officer, told Caravanserai.
"Kyrgyzstan is a paradise for all sorts of extremist movements," he told Caravanserai. "Tablighi Jamaat is outlawed in [other] CIS countries, but it functions officially here."
In Kyrgyzstan, "extremists operate openly on social networks," he said. "Their members arrive in the guise of ... proselytisers, but they're wolves in sheep's clothing."
During his career, Jumadylov became familiar with cases of Kyrgyz mutftiate personnel openly preaching extremist ideas, he added.
A variety of approaches
A mixture of standard security measures and covert actions can be used to combat extremism, advised Jumadylov.
The latter means "agents infiltrating these groups, running a set of intelligence and technical ops, identifying financing channels and uncovering underground cells from within", he said, adding that for Kyrgyzstan, such clandestine work "is a weak area".
"Our security agencies simply aren't keeping up with all these radical movements," said Umetaliyeva the party leader. "They should take comprehensive steps to defeat extremism and terrorism, and they should be carrying out those measures intensively on the border."
One well-established Kyrgyz method for fighting radicalism is to have courts ban organisations they have deemed extremist.
Yakyn Inkar recently became the 20th such banned group in Kyrgyzstan.
Yakyn Inkar
On July 19, a court in Bishkek ruled Yakyn Inkar an extremist and illegal group. The Supreme Court upheld the ruling.
Those rulings came in response to a finding by the General Prosecutor's Office, Denis Pyshkin, an official in the Interior Ministry (MVD)'s 10th Main Directorate, which fights terrorism, told Caravanserai.
Yakyn Inkar, whose name comes from the Arabic for "denying everything except God", is led by a resident of Belovodsk, Chui Province, said Pyshkin, who did not identify him.
"He's under constant surveillance," said Pyshkin. "The movement arose a little more than a year ago."
Other members of the group "live in Belovodsk too", he added. "The MVD is doing everything possible to monitor Yakyn Inkar and other radical groups."
Yakyn Inkar probably is a branch of Tablighi Jamaat with about 30 followers in Kyrgyzstan, said Alikbek Jekshenkulov, leader of the Akyykat (Truth) Party.
The group "became active about 18 months ago in northern Kyrgyzstan," he added.
"Those followers ... urge the public to turn its back on the blessings of civilisation like modern communications and education," he said.
The Spiritual Administration for Muslims of Kyrgyzstan (DUMK) and law enforcement warned Yakyn Inkar many times to follow Islamic canons, said Jekshenkulov.
"After they violated all official instructions, they were recognised as extremists," he said.