KHATLON PROVINCE, Tajikistan -- "Islamic State" (IS) activities in Syria and Iraq continue to exact a heavy toll on far-away Tajik families.
Since 2015, 1,141 Tajik citizens have joined IS, with about 300 of them being killed so far, the Strategic Research Centre under the President of Tajikistan said in July, according to Radio Free Europe/Radio Liberty's Tajik service.
One particularly hard hit Tajik is Sharif Sherbekov, 60, of Kabadiyan District, Khatlon Province. Eleven members of his family either joined IS or went to prison for trying to join.
Sherbekov lives in an area characterised by high IS recruitment. Seventy-three residents of Kabadiyan have joined IS, according to the Tajik government. The district has a population of about 170,000.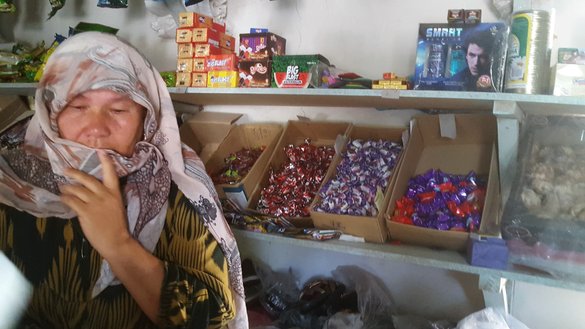 Sons disappear into insurgency
Tragedy began stalking Sherbekov's family in 2014, when all three of his sons joined IS. The sons all became radicalised as migrant workers in Russia.
The sons used to go abroad routinely to support their families by doing migrant work. However, Sherbekov noticed a change in his oldest son, Asadullo, the last time that the son returned to Tajikistan.
"He started demanding that I pray and go to the mosque," Sherbekov told Caravanserai. "He wouldn't let me watch TV and demanded that I buy meat from butchers with a religious education."
The radicalism spread to the other sons, their wives, and their mother.
"My wife even kicked me out of our house," said Sherbekov.
In 2013, Asadullo went to Russia with his wife and four children. Sherbekov's other sons, Ismatullo and Rakhmatullo, followed suit.
Bad news soon followed, when in 2014, Asadullo, his wife and children, and his two brothers travelled to Syria to join IS.
"Eighty per cent of young [Tajiks] who join IS are recruited in Russia [while doing migrant work]," said Mirzosafar Saburov, chief of the Kabadiyan District office of the government's Committee for Religious Affairs.
"Lack of education" and the Tajik migrants' habit of living together make it easy to recruit them en masse, he told Caravanserai.
More trouble
Soon after arriving in Syria, Ismatullo and Rakhmatullo began urging their wives -- still back in the village -- to come join them, and Sherbekov's wife attempted to escort her two daughters-in-law and three grandchildren to Syria.
"It was Eid ul Adha in 2015," recalled Sherbekov. "While I was visiting someone, my wife, our daughters-in-law and grandchildren ... ran off and headed north toward the Kyrgyz border."
"If I'd known, I'd have locked them up at home and not let them out," he said.
The three adults and three children were caught on the Tajik-Kyrgyz border, the Tajik Interior Ministry announced September 25, 2015.
Strikingly, their years of birth ranged from 1964 (Sherbekov's wife) to 2015 (the youngest grandchild), showing the effect of IS on three generations of his family.
A Dushanbe court sentenced the three women to five years in prison and awarded custody of the three children to their grandparents, except for Sherbekov, whose wife is completing her prison sentence.
Sherbekov remains loyal to his wife and visits her every two months in prison to bring her medicine.
"There's nobody else to take care of her," he said. "My heart is broken."
Women's fate
"My daughter's only wish was most likely to be near her husband," Umeda Anabekova, mother of Rakhmatullo Sherbekov's imprisoned wife, Dilafruz, told Caravanserai.
She is raising her three-year-old granddaughter now.
"I praise Allah that, even though she's in prison, she is in Tajikistan instead of being bombed in Syria," she told Caravanserai.
Gulchekhra Salimova, mother of Asadullo Sherbekov's wife, Oisha, lacks even the consolation of a grandchild's presence. She has no information about her daughter and four grandchildren since they vanished in Syria in 2014, Salimova told Caravanserai.
Working with youth, parents
To prevent more family-devouring tragedies, officials have stepped up preventive work.
"We conduct outreach events every month in our villages with the help of imam-khatibs and school principals," said Saburov the Kabadiyan District official. "We speak both with youth and their parents."
"Starting in 2016, we put together a plan of events to prevent young people from joining terrorist organisations," Khosiyat Zaripova, chief of the Kabadiyan District Women's and Family Affairs Committee, told Caravanserai. "We go to people's homes and talk about the essence of Islam. We tell parents to be vigilant ... about [their children's] behaviour."
Her committee also asks the parents of IS militants to address the public.
"It's very effective when the parents of those young people raise awareness," she said. "We want Tajik youth to avoid the same mistakes and same traps."