ALMATY -- A recent multi-national exercise in Kazakhstan is helping cement its security co-operation with other countries, say observers.
Exercise Steppe Eagle is "a key link in preparing Kazakhstani troops for peace-keeping", Defence Minister Saken Zhasuzakov said at the exercise's August 4 closing ceremony, according to his ministry.
Steppe Eagle has taken place annually since 2003, and since 2012 as part of NATO's Partnership for Peace Programme. This year, training occurred March 31-April 11 and July 22-August 4 at Illisky Training Centre in Almaty Province.
Other participating countries included Kyrgyzstan, Tajikistan, Turkey, the UK and the US.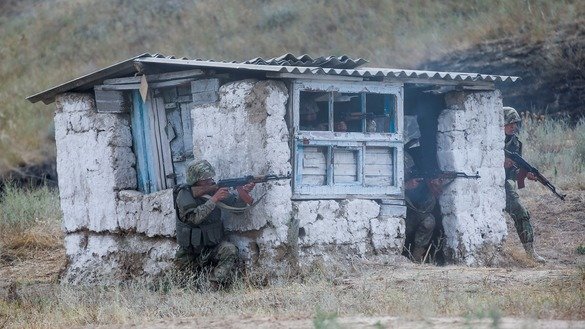 The drill's main goal is "preparing to conduct peace-keeping operations and to react to local conflicts and various crises", Zhambyl political analyst Ruslan Seksenbayev told Caravanserai.
Kazakhstan is planning to "increase the number of its military observers and peace-keepers on UN peace-keeping missions", said Zhasuzakov at the closing ceremony..
"The exercise permits [Kazakhstani] government agencies to develop a common approach to planning, organising and conducting UN and NATO operations," according to a Defence Ministry statement.
Kazakhstani troops during Steppe Eagle "had an outstanding chance to share experience with professionals from other countries", said Seksenbayev. "This represents invaluable experience for our peacemakers."