SUGHD PROVINCE, Tajikistan -- Authorities battling to reduce the incidence of extremism among residents of Sughd Province are recording progress.
For the first time in five years, the incidence of crimes in the province, including those linked to terrorism and extremism, fell below that of Dushanbe and Khatlon Province, according to provincial police.
As part of the National Anti-Extremism and Terrorism Strategy for 2016-2020, 34 national government agencies and ministries, various local governments and the clergy formulated their own anti-extremism plans, according to the Dushanbe-based Strategic Research Centre under the President of Tajikistan.
"Co-ordinating the activity of participants in the [counter-terrorism] measures became an important requirement for implementing those measures," Olimjon Zokhidzoda, chairman of the province's Youth Affairs and Sports Committee, told Caravanserai.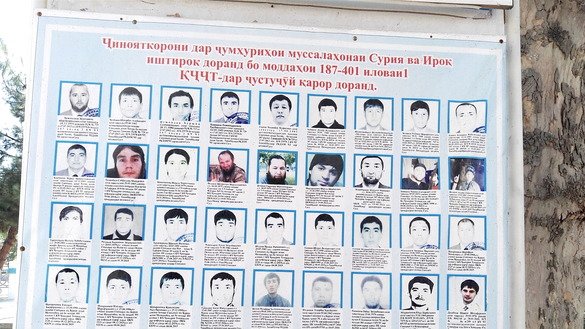 Interior Ministry specialists, prosecutors, security officials and clerics work together in a way that never happened before, he said, adding that they focus on the vulnerable parts of the population.
Seminars, meetings, and terrorism and extremism prevention discussions have occurred in all designated "crisis" cities and districts -- Isfara, Ghafurov, Panjakent, Asht, Istaravshan, Spitamen and Jabbor Rasulov, according to Sughd police.
Police: fewer Tajiks go abroad to fight
According to the Strategic Research Centre, as of July, 1,141 Tajik citizens were fighting for "Islamic State" (IS) abroad.
However, the number of Tajiks leaving the country for Syria and Iraq has decreased since the beginning of the year, local police officials said.
In the first six months of 2017, authorities recorded no cases in Sughd Province of residents departing for Syria or Iraq to fight for IS, according to provincial police.
"This is the result of well-conceived outreach work that agencies are doing as part of the National Anti-Extremism and Terrorism Strategy," Sughd Province Chief of Police Maj. Gen. Sharif Rahmon Nazarzoda told journalists in Khujand July 27.
From January through July this year, 18 wanted Sughd Province citizens were extradited to Tajikistan from abroad, he said.
Four of them were charged with terrorism and extremism once they arrived, he said, adding that five Sughd residents who voluntarily returned from Syria and Iraq received amnesty.
During that period, the police thwarted two attempts to commit terrorist attacks in Jabbor Rasulov and Istaravshan districts, he said.
Other law enforcement agencies are reporting a downturn in extremism in the first part of 2017.
Authorities in Sughd recorded 230 terrorist or extremist offences there during the first six months of 2017, compared to 330 during the same period last year, according to the provincial prosecutor's office.
Who is the most dangerous and why?
Labour migrants are considered to be the Tajik demographic most vulnerable to extremism, say security officials. Eighty five percent of the approximately 300 Tajik militants killed in Syria and Iraq so far were migrant workers who became radicalised in Russia and other countries, by some counts.
For Tajik citizens going abroad to work, "those who consciously embarked on the path of terrorism and are in hiding abroad present the greatest threat", Nazarzoda said.
"Innocuous tactics precede recruitment, like making friends, attending mosque [services], and sharing dinner," he explained. "All of that is dangerous for malleable minds or overly trusting types who have gaps in their education ... We advise parents to keep their children as far away as possible from such people."
As of January 1, 569 Sughd Province residents ostensibly working abroad are missing, according to the country's Migration Service.
Authorities want to bring down such numbers.
"We work consistently to build a trusting atmosphere between police and the public," said Nazarzoda at his news conference. "We purposefully work with vulnerable social groups."