BISHKEK -- Women in Kyrgyzstan can put their role in family and society to work in defeating extremism, say officials and observers in the Central Asian country.
Law enforcement agencies and international NGOs are lending their support.
For example, the Interior Ministry (MVD)'s 10th Main Administration, which fights extremism and terrorism, has begun involving women in this effort, said Denis Pyshkin, a 10th Main Administration staffer.
A 'tremendous' role
He called women's role in the fight "sizable".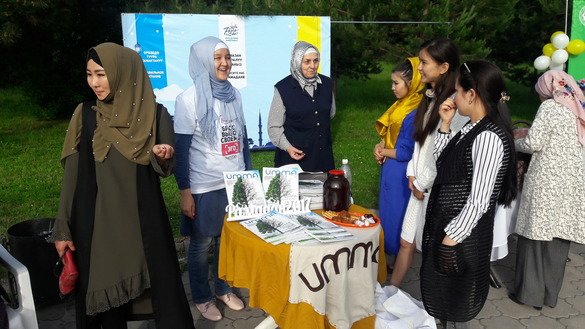 "Everything depends on upbringing provided by the mother," he told Caravanserai. "That's why women's role is tremendous."
"When we talk of religious believers, upbringing and education are inextricably intertwined," he said.
A believer who is both educated and well brought up "can never represent a threat", he said, adding, "A child's worldview depends on the one provided by the mother."
To take advantage of the force multiplier represented by women in fighting extremism, "Personnel from the 10th Main Administration travelled all throughout Kyrgyzstan", he said. "They met with activists from female religious groups."
The MVD personnel "tried in a friendly atmosphere ... to teach the women how to distinguish radicalism from traditional Islam", he said. "If there once was a time when believers kept to themselves and so did the state, now the time has come to solve the problem of radicalism together."
Not just the government, but extremists as well recognise the power that women can hold, said Erlan Bakiyev, who leads the MVD 10th Main Administration department that combats extremism and illegal immigration.
In recent years, authorities have noticed stepped-up activity by extremist groups in Kyrgyzstan, he said at a recent seminar in Bishkek.
"They are involving women in their activity more frequently," he said. "We've also noticed incidents when women become radicalised."
Fighting back with international help
Such extremist behaviour is not going unnoticed by international NGOs, such as the UN, which supports Kyrgyzstan's efforts to combat radicalism.
The UN is implementing a project called "The role of women in fighting extremism and terrorism" in Kyrgyzstan, Jypara Rakisheva, Kyrgyzstan national co-ordinator for the UN Office on Drugs and Crime (UNODC), told Caravanserai.
Women have more influence inside a family than do men, she argued, echoing Pyshkin.
"When a man takes on something new, he might [not influence other members of the family]," she said. "But if a woman accepts it, all their children will accept it."
Mindful of that factor, the UN "thought it necessary to emphasise women as the foundation of [its] preventive work", she said.
The UN agencies in Kyrgyzstan operate differently, she explained. The UN Population Fund and UN Development Programme work directly with women. The UNODC, meanwhile, works with law enforcement.
The UNDOC, for example, "starting July 27, was able to hold training sessions for police in all seven provinces," she said. "We started with Talas Province and ended in Chui Province."
The instructional sessions reached 250 police officers, including some who work with juveniles. They learned how to prevent and fight extremism and how to work with women.
Classes, meetings for Kyrgyz women
The training provided by international organisations has been invaluable, say some Kyrgyz who attended such sessions.
Lack of education is the main reason for the spread of extremism, said Zulfiya Nasyrova, a Tokmak woman who participated in the UN effort to teach women about the dangers of extremism.
"Schools need to introduce religious education, not just in high school but also in grade school," she told Caravanserai. "Otherwise, children receive a lot of unreliable information on the internet."
"Several of us women in Tokmak teach the basics of Islam in schools and madrassas," she added. "In our classes for children, we also teach love for the motherland, society and other religions."
She and her colleagues also "hold meetings with local women about preventing radicalisation", said Nasyrova.
Another participant in the effort to involve women in fighting radicalism, Umar Karypov, an imam in Kant, Chui Province, discussed what he had seen.
"The qaziyat [Islamic judge's office] in our town opened a room for women," he told Caravanserai. "Women can get together and obtain accurate information about Islam that they can share with their families, children, relatives, female friends ... Bringing women on board is extremely important."
Within the UN campaign to involve women in fighting radicalism, the police are doing considerable work, said Bakyt Alimbayev, a police officer in Lenin District of Bishkek.
"Every week, we hold meetings for women that are devoted to preventing extremism," he told Caravanserai. "We also monitor all the assemblies that occur in mosques and other places in [Lenin District]."