BISHKEK -- Years of alienation between Uzbekistan and Kyrgyzstan continue to melt away after Uzbekistani President Shavkat's Mirziyoyev's September 5-6 visit to Kyrgyzstan.
The first journey to Kyrgyzstan in 17 years by an Uzbekistani president ended with historic agreements on economic co-operation and borders.
The most tangible sign of progress was the re-opening of the long-restricted Dostuk/Dustlik border crossing on September 6, which thousands of citizens of both countries turned out to celebrate.
Since 2010, it had been open only limited hours and only for residents of both countries' border provinces, who needed formal documents like a written invitation or a telegram to cross. Other citizens of both countries had been forced either to fly to the other country or travel overland via Kazakhstan.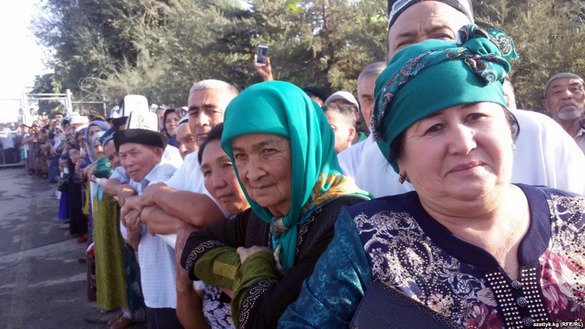 It is now open 24 hours a day for all citizens of Uzbekistan and Kyrgyzstan.
"That's nonsense that we lived with for many years," Tashkent resident Rasul Jurayev told Caravanserai, referring to the previous need to buy a plane ticket or to spend hours traversing Kazakhstan to enter Kyrgyzstan. "I am very glad that friendship has been restored between our countries."
Long-standing disputes
Since taking office last year, Mirziyoyev has worked to rebuild often-fractured relations with his country's neighbours.
Points of contention between Uzbekistan and Kyrgyzstan included border demarcation and sharing of water in an arid region. But both Mirziyoyev and Kyrgyz counterpart Almazbek Atambayev worked to mend fences, literally and figuratively.
The countries' pivot toward each other could mark the beginning of a new era of regional co-operation and security, say analysts.
The summit is "of immense importance," Tashkent-based political analyst Umid Asatullayev told Caravanserai. "The tensest place in Central Asia for years was the border districts of Uzbekistan and Kyrgyzstan."
"Border disputes constantly took place here," he added, predicting that resolution of the border squabbles "will influence the entire situation in Central Asia".
Resolving to do better
During the summit, both presidents expressed the will to seek out rapprochement.
"We will direct all of our abilities ... to further develop bilateral relations," said Mirziyoyev at his meeting with Atambayev, according to Mirziyoyev's press office.
Mirziyoyev's visit "opens a new era ... in the relationship of our brotherly peoples", said Atambayev, according to his press office.
During the Uzbekistani president's visit, the countries' officials signed numerous bilateral agreements. They will cover co-operation in taxation, higher education, science and many other matters, as noted by Atambayev's press office.
Mirziyoyev and Atambayev signed a Joint Statement committing their countries to work jointly on problems and to seek out compromise on the touchy issue of water.
"For many years ... Uzbekistan actively denounced [Kyrgyz plans to build] the Kambarata hydro-electric plant, fearing for its own water," Tashkent environmentalist Georgii Temirkhanov told Caravanserai. "The presidents have agreed to build the power station together. That's a truly revolutionary decision."
Progress on security and borders
The presidents have committed their countries to co-operation on security as well. In the Joint Statement, they noted the need to step up co-operation "against terrorism, regional extremism and drug and weapon trafficking".
The most awaited decision of Mirziyoyev and Atambayev was the signing of an agreement on their border. After years of work untangling some controversies, the countries have fixed about 80% of their border, leaving 217km of frontier to resolve. Their parliaments will take up the treaty for possible ratification.
Mirziyoyev and Atambayev apparently intend to keep working to repair relations. Before he left, Mirziyoyev invited Atambayev to make a reciprocal visit to Kyrgyzstan, according to Mirziyoyev's press office.