TASHKENT -- Better security and more-honest law enforcement are the anticipated payoffs for the Tashkent "Safe City" project.
The system is expected to be complete by 2019 in the city, Tashkent police officer Komil Vokhidov told Caravanserai. Authorities anticipate taking it nationwide by 2023.
In the interest of public safety, it is supposed to unify all law enforcement informational systems and Tashkent video cameras into a single network.
Lackluster crime-fighting results
Uzbekistani officials August 29 decided to introduce "Safe City" in Tashkent first (and later in the rest of Uzbekistan) after President Shavkat Mirziyoyev August 17 criticised the country's law enforcement for mediocre performance in fighting crime.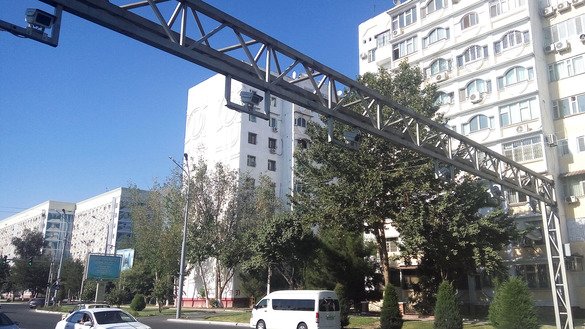 Challenges like "international terrorism, religious extremism, and the spread of destructive ideas throughout society" mean that security agencies have to take decisive steps, he said during a video conference of government officials, according to his press office.
The country's police had a backlog of 3,186 unsolved crimes as of August 17, he said, adding that in recent years they had succeeded in nabbing only 5,250 fugitives out of 15,958 on the national wanted last.
However, on the brighter side, crime rates fell in 2017 compared to 2016, as officials noted during the video conference.
Hopes for Safe City
The planned "smart" system, which the Uzbekistani government's Information Security Centre is implementing, is supposed to integrate information systems belonging to disparate police departments, government agencies and other organisations.
"In Uzbekistan now, law enforcement agencies have many different security systems," Vokhidov the Tashkent police officer said. "The traffic police manage an automated surveillance system and traffic cameras on Tashkent streets. The [Interior Ministry's] Okhrana security service has its own system of sensors and cameras, and so on."
"Our task is to unite all these systems into a single network," he said.
If plans work out, Tashkent's system will be complete by 2019, with all provincial capitals and larger cities receiving their own systems by 2021. The hoped-for deadline for a nationwide system is 2023.
Safe City "will enable [law enforcement] to react to threats much more rapidly and to see a full picture of the crime situation in the city", predicted Vokhidov.
Proven video surveillance
Uzbekistan's video surveillance cameras already help fight crime. The country has 114,000 of them, according to Mirziyoyev's press office. They helped solve almost 10,000 crimes nationwide, his press office added, without specifying the time frame.
The first such cameras appeared in Tashkent in 2015.
Tashkent's traffic cameras, operating since March, are performing the dual task of catching rule-breaking motorists and preventing corruption.
The system detected 705 moving violations on September 3 alone, according to Tashkent police.
"The surveillance system has disciplined our drivers," Tashkent resident Shavkat Jurayev told Caravanserai. "Fines became unavoidable. You can't bribe a camera."
"In early summer I was robbed outdoors," another Tashkent resident, Andrei Ten, told Caravanserai. "Because the next building had surveillance cameras, [police] identified the criminals. They were caught that day."