BISHKEK -- Sooronbai Jeenbekov, a member of the ruling Social Democratic Party of Kyrgyzstan and former prime minister, won the Sunday (October 15) Kyrgyz presidential election with more than 54% of the vote.
Jeenbekov, 58, is a native of Osh Province who studied agriculture and economics in university. He previously worked in government for more than 20 years, including 12 years in parliament. He served as prime minister from April 2016 to August 2017.
Jeenbekov has pledged to speed up reforms and strengthen peace and stability in Kyrgyzstan. He is scheduled to succeed Almazbek Atambayev December 1.
More than half of Kyrgyzstanis voted
About 1.7 million voters turned out on Sunday, accounting for almost 56% of the voting population, according to the country's Central Election Commission (CEC).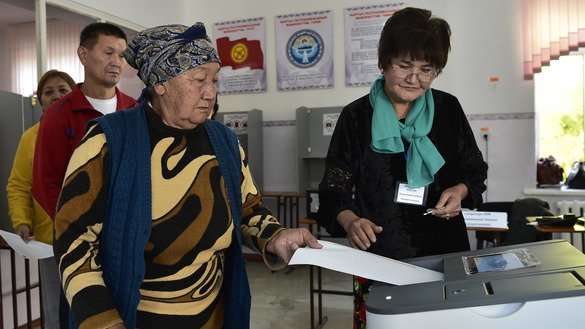 Turnout varied nationwide, with Osh Province seeing more than 68% and Chui Province coming in last at about 51%.
Eleven candidates battled for the office, with Omurbek Babanov, leader of the Respublika-Ata Jurt (Republic-Fatherland) party, finishing second with about 34% of the vote.
Elections deemed 'organised' and 'peaceful'
About 800 accredited observers from 58 countries monitored the election process, according to 24.kg.
Observers described the elections as "organised" and "peaceful". They reported some cases of bribery and violations of secrecy of the ballot but concluded that such incidents did not swing the outcome of the election.
Feared demonstrations and riots did not materialise.
The elections were fair in spite of earlier concerns, said Sergey Lebedev, the executive secretary of the Commonwealth of Independent States (CIS), in Bishkek.
"Technological innovations allowed us to minimise tampering and fraudulent votes," he said, according to 24.kg. "The results reflect a real picture of the citizens' choice."
Kyrgyzstan exceeded sceptics' expectations, noted Kazakhstani political analyst Dosym Satpayev.
"After two [overthrows] in 2005 and 2010, many thought that Libya's fate awaited Kyrgyzstan," Satpayev wrote on his Facebook page, alluding to civil war and chao. "But it turned out that this country could instead follow reformist Tunisia's path ... Democracy is a constant learning process where you earn C's, B's and A's. Kyrgyzstan has already learned to vote."