BISHKEK -- Uzbekistan is continuing large-scale healthcare reforms launched by President Shavkat Mirziyoyev in February, with a focus on improving the skills of healthcare professionals and fighting tuberculosis (TB).
Many of the reforms are aimed at tackling the most significant issue faced by residents across Uzbekistan -- poor work performed by doctors and nurses at primary healthcare facilities, especially in remote areas. Other changes are aimed at fighting corruption, reducing the high price of medical products and upgrading the equipment at hospitals and clinics.
"Free medical care represents a significant accomplishment, and we should preserve that in Uzbekistan," Mansur Ibragimov, a resident of Tashkent, told Caravanserai. "But the quality of these services, for now, has a long way to go."
"Currently, eight universities in Uzbekistan provide medical education," Timur Mirniyazov, a doctor at a state-run Tashkent clinic, told Caravanserai.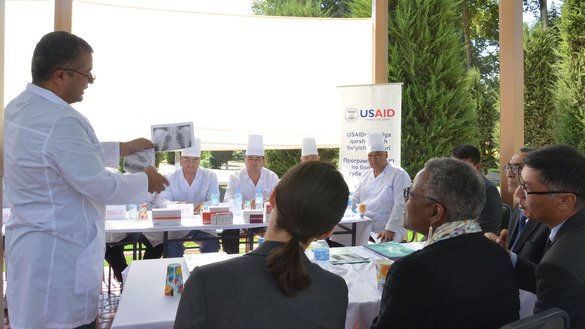 "The Tashkent Medical Academy is the most reputable of them," he said. "The level of education [the academy] provides to doctors is good, but few of them want to work in rural areas. The situation with paramedic personnel is bad."
Advancing medical skills
To improve health care in rural areas, the government plans to provide training opportunities for medical staff and to assign some newly minted doctors to work in rural areas.
"The personnel in provincial clinics have problems with their qualifications," Mirniyazov said. "There are virtually no modern learning materials written in Uzbek. Doctors in Tashkent who know English or Russian can watch training videos on the internet and continue learning on their own. In remote regions, they do not have that kind of opportunity."
Starting this academic year, all government-funded medical school graduates "will be obligated to pay off [the cost of their education] over three years" by working in rural healthcare facilities, said Health Ministry spokeswoman Guzal Azizova.
A resolution signed by Prime Minister Abdulla Aripov in September aims to remedy the shortage of healthcare personnel in the provinces and to "improve the qualifications of healthcare personnel".
The September 18 resolution foresees sending Uzbek doctors and other medics abroad on a regular basis for advanced professional training.
"A special schedule for on-site training abroad will be set up," Azizova told Caravanserai. "To participate, doctors will be chosen on a competitive basis. Their trips will be funded by the government.
The government also plans to invite foreign specialists to work in local hospitals, using a combination of its own funds and foreign aid.
Fighting tuberculosis
Uzbekistan already runs a donor-funded project to fight TB with assistance from the US Agency for International Development (USAID).
The programme trains doctors and nurses in Kitab at the Kashkadarya Regional TB Hospital, the only institution of its kind in Kashkadarya Province.
The project is being implemented as part of a five-year USAID programme, launched in 2015, to fight TB in Uzbekistan at a total cost of $7.6 million (61 billion UZS).
US Ambassador to Uzbekistan Pamela L. Spratlen visited the hospital in Kitab on September 25. She also previously toured the Kashkadarya Regional TB Dispensary in Karshi March 24 in observance of World TB Day.
In Kitab, Spratlen met with USAID-trained doctors who consult on difficult-to-treat TB and drug-resistantcases and with nurses who support and encourage patients to complete their TB treatment.
Meanwhile, on June 14, USAID and Uzbek pharmaceutical firm Uzpharmsanoat signed a memorandum of understanding to improve the quality of anti-TB drugs in Uzbekistan.
"Tuberculosis, now the world's biggest killer among infectious diseases, remains a serious concern in Central Asia," Dr. Jatinder Cheema, USAID regional mission director for Central Asia, said at a signing ceremony.
"USAID is pleased to be working with the government of Uzbekistan and Uzpharmsanoat to ensure that the medicines produced in Uzbekistan meet the highest standards of quality, safety and efficacy and are available to effectively treat TB patients here and throughout the region," she said.
USAID is also funding a campaign to fight TB in Tajikistan.