BISHKEK -- More and more Kyrgyz women are playing their part to prevent the spread of extremism and misinformation about Islam across the country.
"We are conducting extensive work to promote traditional Islam and prevent radicalism through TV and mass media outlets in rural Kyrgyzstan," said Zairbek Ergeshev, director of the State Commission on Religious Affairs (GKDR).
"Only through broad awareness can we fight extremism and preserve peace in multi-ethnic Kyrgyzstan," he said. "Kyrgyz women, who are very active in this work, are making major contributions."
Women play a major role in Kyrgyzstan's efforts to shape a transparent society, said Kyrgyz Mufti Maksat haji Toktomushev.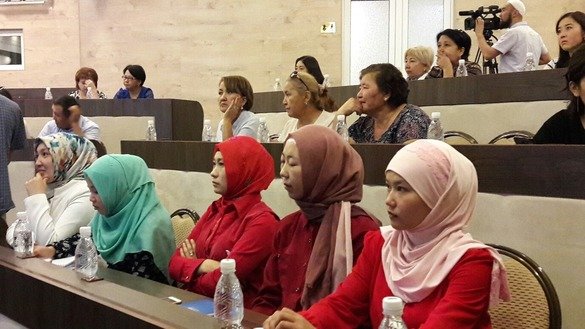 "We shouldn't be afraid of giving women their due," he said. "It is women who nurture morality and prevent radicalism. Islam's main task is raising a dignified, moral person, and women play a large role in that."
The Muslim clergy understand the importance of women in society, said Jamal Frontbek kyzy, leader of the Kyrgyz women's NGO Muktallim.
"We succeeded in having women work in every qaziyat [Islamic judge's office] now," he told Caravanserai. "Moreover, lectures on reproductive health ... are now taking place in all provinces. Kyrgyz women should learn to respect themselves and learn to [defend] their rights. By doing so, they contribute to developing peace in Kyrgyzstan."
Misinformation leads to radicalisation
Women, to the alarm of Kyrgyz authorities, have shown no immunity to radicalisation in recent years.
A fourth of the approximately 500 Kyrgyz who joined militant groups in Syria since 2011 are women, said Nurjigit Kadyrbekov, chairman of the Bishkek-based NGO Iyman Foundation for the Development of Spiritual Culture.
"Why do women become radicalised? ... because they have no understanding of religion and Islam and they are misinformed," he told Caravanserai.
Women comprise 52% of the Kyrgyz population, and many of them are unaware of women's role in Islam, said Bishkek sociologist Topchugul Shaidullayeva.
"Here in Kyrgyzstan, we often hear that Islam means women wearing the hijab, doing housework and submitting to their husbands," she said.
"In reality, Islam provides for women's rights, doesn't force them to wear the hijab and doesn't forbid them from taking part in ... public life," she said. "By being highly active in public life, Kyrgyz women can significantly lower the level of radicalisation."
Kadicha Umuraliyeva, a 40-year-old Bishkek resident, admitted that she does not know anything about what role Islam sets aside for women.
"My entire faith boiled down to me wearing a headscarf and us observing all the rituals and all the Muslim holidays," she told Caravanserai. "I never thought about participating in public life or in any other part of life ... my husband won't allow it. Long ago, I became used to the fact that my rights are limited to raising children and doing housework."
Increasing religious literacy
Kyrgyz women are very interested in religion, but mosques generally have no room set aside for them to attend services, said Kadyrbekov.
That restriction drives Kyrgyz women to search online, where they often turn up unreliable and even radical material, he said.
His foundation therefore has created an opportunity -- through conferences and seminars -- for Kyrgyz women to ask questions of the mufti, he added.
Kyrgyz women are zealously attending Iyman Foundation courses meant to raise their religious literacy and to strengthen their ability to prevent radicalism, he said.
The latest seminar on September 20, entitled "A Woman's Role in Society and Islam," brought together teachers, healthcare professionals and social workers in Bishkek. Women dominate these sectors, and they exert a colossal impact on the younger generation, said Kadyrbekov.
Authorities and specialists plan to conduct seminars on the role of women in Islam throughout the country, said Toktomushev.
"Women ... can raise a generation of children free of the influence of terrorism and extremism," he concluded.