BISHKEK -- Deals inked recently between Kyrgyzstan and Uzbekistan will help both countries develop economically and are seen as a high priority, according to analysts and officials.
"[We] signed agreements on assembling buses jointly, producing farm machinery, assembling washing machines, setting up [car] dealerships, shipping cable products, building a shopping and recreation centre in Osh city, and setting up a branch of the [Uzbekistani] Artel Technical School in Kyrgyzstan," said Kyrgyz Economy Minister Artem Novikov, October 6 during a business forum in Tashkent.
"Uzbekistan is a high-priority area for Kyrgyzstan's foreign policy," Kyrgyz Prime Minister Sapar Isakov said September 6, while meeting Uzbekistani President Shavkat Mirziyoyev in Bishkek.
Mirziyoyev has made significant contributions to stepping up co-operation in trade and economic, cultural, humanitarian and border issues between the two countries, said Isakov.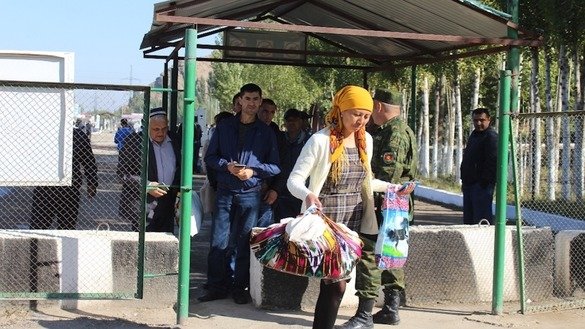 "You altered the history of bilateral relations," said Isakov to Mirziyoyev. "The presidents of our countries are setting a quick pace, and because of that, [our countries'] executive agencies must stick to that pace."
Economic gains
"The agreements, signed ... in October in Tashkent will lead to brisk development in both countries, will create jobs," Kadyrmamat Toktorov, an economist from Bishkek, told Caravanserai.
The pacts included memoranda of understanding between the countries' car assembly plants and jewellers' unions, said the Kyrgyz Economy Ministry.
Officials also signed deals enabling Kyrgyzstan to export tires, water, honey and other goods to Uzbekistan.
Kyrgyz-Uzbekistani trade in 2016 reached $192.3 million, an increase of almost 15% compared to typical trade levels in past years, said Toktorov.
"And that's far from the limit," he said.
For example, in the beginning of October, Kyrgyzstan agreed to export up to 550 million kWh of power to Uzbekistan at a rate of 2.4 US cents per kWh, he added.
"All of this trade became possible [because of] the revitalisation of trade and economic relations that the two countries' presidents initiated in December 2016 in Sarmarkand and that the ... prime ministers reinforced in August 2017," added Toktorov.
Improving cross-border travel
The September Bishkek summit between Mirziyoyev and Kyrgyz counterpart Almazbek Atambayev made possible the full re-opening of the Dostuk border crossing between Osh Province, Kyrgyzstan, and Andijan Province, Uzbekistan, Bishkek political analyst Askar Otunchiyev told Caravanserai.
"For more than seven years, this checkpoint functioned at limited times during the day," he recalled. "To cross the border ... you had to present a slew of documents."
Now citizens of both countries are crossing back and forth at Dostuk without having to show additional documents, he said.
"Resumption of round-the-clock operations at the Dostuk check-point ... is a landmark event," he said. "It's a tremendous incentive to develop multi-faceted co-operation between the two countries."
Robiyakhan Tojiboyeva, 62, of Kara-Suu, Osh Province, said that opening up the border would allow her family to engage in small business.
"We'll be able to buy fruits and vegetables wholesale in Uzbekistan and sell them in Kyrgyzstan," she told Caravanserai.
Peace and stability will be the most important benefit of the thaw in relations, she said, adding that she expects the morale of and trust between the Kyrgyz and Uzbekistani peoples to rise.